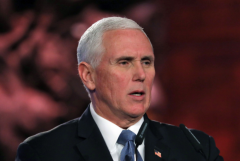 In a commentary for National Review, former Vice President Mike Pence said there was relative calm in Israel for the last seven years, but this changed as " a direct result of the weakness shown by the Biden administration from its first day in office."
"The answer" for why there is tremendous violence today "is that President Biden and congressional Democrats have abandoned unambiguous support for our ally Israel, emboldened our enemies, and turned their back on the policy that yielded historic peace deals in the Middle East," wrote Pence in his May 17 commentary.
Pence then explained that the Trump administration made it abundantly clear that the U.S. supported Israel 100% and would not compromise. Under Trump, the Iran nuclear deal was scrapped, the U.S. embassy was moved to Jerusalem, and several historic peace/trade deals were brokered between Israel and some of its Arab-Muslim neighbors. 
"Every step of the way, Democrats and self-proclaimed foreign-policy 'experts' derided our administration's approach and issued dire warnings that blood would soon flow in the streets of Israeli cities," wrote Pence.  "As usual, they were wrong."
"Other nations knew where America stood with absolute certainty," said Pence.  "They knew America would respond forcefully if our citizens or allies were threatened. As a result, they responded rationally by pursuing peace and harmony."
That all changed with the Biden administration, which restored $200 million in aid to the Palestinian Authority, and announced it would re-enter the Iran nuclear deal. 
"Every tepid statement uttered by the Biden-Harris administration is built on a false equivalency between Israel and Hamas," wrote Pence.  "One is a sovereign nation with a legitimate government, and a trusted ally. The other is an internationally recognized terrorist organization that has fired more than 3,000 rockets at Jewish families and businesses in the past week. There is no moral equivalency between Israel and the terrorist group Hamas."
"Apparently, Biden learned nothing from the tragic foreign-policy blunders made during his time as vice president," said Pence. Now, Biden "has replaced strength with weakness, moral clarity with confusion, and loyalty with betrayal."