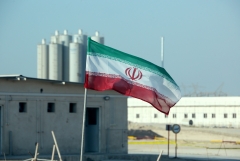 As Iran moves toward creating a nuclear weapon, Brig.-Gen. Abolfazl Shekarchi insisted the elimination of the Jewish state of Israel was a priority for the Islamic Republic of Iran, reported The Jerusalem Post.
"We will not back off from the annihilation of Israel, even one millimeter," Shekarchi told the Iranian Students News Agency. "We want to destroy Zionism in the world."
Discussions on restoring the Iran nuclear deal are resuming in Vienna today and, after a five-month break, negotiations do not appear to be moving in a positive direction, Politico wrote.
The U.S. is attempting to lift economic sanctions on Tehran in exchange for temporary restrictions on their atomic program, according to The Jerusalem Post.
With the Iranians' anti-Semitic attitudes, Israel insists it will use force to prevent Iran from gaining nuclear weapons and destroying their country. In a speech at the United Nations, Israeli Prime Minister Naftali Bennet assured that Israel would take action if necessary.
"Words do not stop centrifuges from spinning. There are those in the world who seem to view Iran's pursuit of nuclear weapons as an inevitable reality, as a done deal, or they've just become tired of hearing about it," Bennet said. "Israel doesn't have that privilege. We cannot tire. We will not tire. Israel will not allow Iran to acquire a nuclear weapon."
The Iranian general also chastised other Muslim countries--Saudi Arabia, the United Arab Emirates, and Bahrain--that established diplomatic relations with Israel, claiming it was "intolerable."
In the beginning of August, Israeli Defense Minister Benny Gants claimed Iran was "around 10 weeks away from acquiring weapons-grade materials necessary for a nuclear weapon."
The New York Times reported in mid-September that Iran "has come within roughly a month of having enough material to fuel a single nuclear weapon."
Sheina Vojoudi, an Iranian dissident who fled the Islamic Republic and now lives in Germany, told The Jerusalem Post that Iran and Israel should be working together to improve the lives of their respective people.
"A normal Iranian government, made by the Iranian people, would try to normalize ties with Israel. We could have great deals which can help both nations," Vojoudi said. "Our people will be happy to use Israeli water technology instead of planning to destroy Israel. We must save our country from this evil regime and turn the occupied Iran to a free Iran."