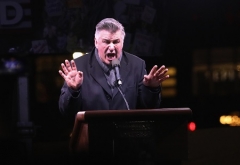 Since Friday, Twitter has yet to flag as incitement a post by liberal actor Alec Baldwin saying he "had a dream" about the prospect of President Donald Trump being hung for sedition – using a noose made from recycled coronavirus masks.
On January 15, 2020, three days before the federal holiday honoring the late Dr. Martin Luther King, Jr. and his iconic "I have a dream" vision of racial harmony, Baldwin tweeted his dream:
"I had a dream Trump was on trial for sedition.

"And outside the courthouse, a noose was hung from a makeshift scaffold.

"The noose was made of recycled Covid masks."
As of the time this article was published, Twitter had not flagged Baldwin's post with the "risk of violence" claim it has used to censor posts of conservatives claiming election fraud.
This isn't the first time Baldwin has been so direct. In one appearance on Late Night With Conan O'Brien, Baldwin launched into a screaming tirade fantasizing about stoning Republicans to death – and even killing their wives and children, NewsBusters notes:
Baldwin appeared on the December 11, 1998 Late Night With Conan O'Brien and worked himself into a "joking" rage about the impeachment of Bill Clinton and the Republicans supporting it. Here, in all its ignominy, is what the actor told O'Brien: 

I am thinking to myself in other countries they are laughing at us 24 hours a day and I'm thinking to myself if we were in other countries, we would all right now, all of us together, [starts to shout] all of us together would go down to Washington and we would stone [House Republican] Henry Hyde to death! We would stone him to death! [crowd cheers] Wait! Shut up! Shut up! No shut up! I'm not finished. We would stone Henry Hyde to death and we would go to their homes and we'd kill their wives and their children. We would kill their families! [stands up screaming] What is happening in this country? What is happening? UGHHH UGHHH!!!!"