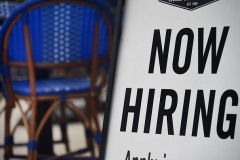 (CNSNews.com) - There are plenty of jobs available right now, but a shortage of workers to fill them.
"What else should Congress do to help bring workers back into the labor force?" Sen. Raphael Warnock (D-Ga.) asked Treasury Secretary Janet Yellen and Federal Reserve Chairman Jerome Powell at a hearing of the Senate Banking Committee on Tuesday.
Both Yellen and Powell said the "single most important thing" is getting past the COVID-induced disruptions:
"So, I would say that in the short run, vaccinations and increasing the number of people who have boosters to get the pandemic under control, to reduce the number of cases, that's the single most important thing we need to do to create an environment in which people feel it's safe to work," Yellen told Warnock:
A substantial number of people say that they're not looking for work for COVID-related reasons. In some cases, even people who were fully vaccinated but who engage in face-to-face contact in their jobs are concerned about exposing themselves to COVID risks. And I think you see that for schools, child care centers, retail, and food services.

Over the medium to longer term, many of the provisions of Build Back Better, particularly those affecting child care, the availability of elder care, and care for the disabled, support for child care, those things promote labor force participation.
Powell said, "It has been a bit of a surprise that we haven't had more of a recovery" in the labor force participation rate.
"And I really think the single most important thing is to get past the pandemic, then we're really going to know how permanent this is. People get surveyed and they do say substantial numbers of people are concerned about going back to work at a time when the pandemic is still moving around. And so, I think that's the key -- which means more vaccination, more boosters."
Powell declined to comment on the Democrats' pending Build Back Better legislation, but he did say, "there's good research showing that the U.S. has fallen behind, for example, in female labor force participation. You ask why, you do comparisons to other countries, and one of the differences that shows up as statistically significant is the availability of child care."
Warnock, a liberal Democrat, was promoting the new child care entitlement in the Democrats' Build Back Better bill, passed by the House and now awaiting action in the evenly divided Senate.
Earlier in the hearing, Sen. Jack Reed (D-R.I.) asked Powell to explain the decline in the labor force participation rate:
"Since June of last year, the unemployment rate has dropped six and a half percent, and participation has basically moved up two-tenths. It's sort of moved sideways, which was surprising," Powell said:
I think when unemployment insurance -- enhanced unemployment insurance ran off and schools reopened, and vaccination came, we all thought there would be a significant increase in labor supply.

And it hasn't happened. So, you ask why there's tremendous uncertainty around that. But a big part of it is clearly linked to the ongoing pandemic. People answer surveys, and, you know, they're reluctant to go back to work. They're reluctant to leave their care-giving responsibilities and go back to work because they feel like schools might be closing again, things like that.

So, it's an issue. And I think what we're taking on -- I'm taking on board is that it's going to take longer to get labor force participation back. We're not going right back to the same economy. And really, it's going to take -- often, the labor force participation is a lagging indicator. It follows big improvements in the unemployment rate.

And that's -- we're probably on track to have that happen. And that means to get back to the kind of great labor market we had before the pandemic, we're going to need a long expansion. To get that, we're going to need price stability. And in a sense, the risk of persistent high inflation is also a major risk to getting back to such a labor market.
The Labor Department's Bureau of Labor Statistics defines the labor force participation rate as the percentage of the civilian non-institutional population 16 years and older that is working or actively looking for work.
"It is an important labor market measure because it represents the relative amount of labor resources available for the production of goods and services," BLS says.
After rising for more than three decades, the overall labor force participation rate peaked at 67.3 percent in early 2000, then started drifting down, a situation attributed partly to the rising number of retiring baby boomers.
The nation's labor force participation rate reached a Trump-era high of 63.4 percent in January 2020, the same month we learned about the new coronavirus that originated in China and rapidly spread around the world.
By April 2020, the labor force participation rate had fallen to a 47-year low of 60.2 percent; and it has hovered at 61.6-61.7 percent in recent months, 1.7 to 1.8 points below the pre-pandemic high.
At Monday's hearing, Sen. Tim Scott (R-S.C.) also addressed "the complexity of the labor force participation rate. And the fact of the matter is that since the pandemic, we've seen a loss of about 1.7 seven percent labor force participation rate.
"We celebrate a 4.6 percent unemployment rate," Scott said. "But what we've sometimes missed is the fact that we have fewer people looking for work, your unemployment rate goes down because your long-term unemployment goes up, which means that your labor force participation rate also goes down," Scott said.
According to the Congressional Budget Office, "Labor force participation is an important component of economic growth: As more people participate in the labor force, firms are able to expand employment and increase production."  
Moreover, CBO notes: "Greater labor force participation is associated with higher tax revenues because the number of employed people, and therefore the number of people paying income and payroll taxes, tends to rise. It is also associated with lower spending on means-tested programs (which provide cash payments or other forms of assistance to people with relatively low income or few assets), such as Medicaid, and on refundable tax credits."