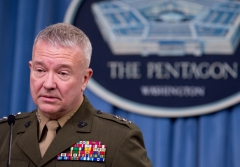 (CNSNews.com) -  U.S. CENTCOM Commander Gen. Kenneth McKenzie said Friday that as commander he takes responsibility for the U.S. drone strike that was aimed at ISIS-K terrorists in Afghanistan but instead killed 10 Afghan civilians, including several children on Aug. 29.

"I'm here to brief the results of the investigation I directed following the report of civilian casualties from a strike in Kabul on 29 August. Having thoroughly reviewed the findings of the investigation and a supporting analysis by interagency partners, I am now convinced that as many as 10 civilians including up to 7 children were tragically killed in that strike," he told reporters at the Pentagon.
"Moreover, we now assess that it is unlikely that the vehicle and those who died were associated with ISIS-K or were a direct threat to U.S. forces. I offer my condolences to the family and friends of those who were killed. This strike was taken in the earnest belief that it would prevent an imminent threat to our forces and the evacuees at the airport, but it was a mistake, and I offer my sincere apology," McKenzie said.
He said that he's "fully responsible for this strike and its tragic outcome" as a combatant commander.
McKenzie said that the drone strike must be considered in context of the situation on the ground after the Aug. 26 suicide bomb attack that killed 13 U.S. soldiers, sailors, and Marines, including 100 civilians.
The general said that in the 48 hours prior to the drone strike, the U.S. military received "a significant number of reports indicating multiple avenues of attack which were being planned simultaneously through which ISIS-K would attempt to harm our forces including with rockets, suicide explosive vests and vehicle-borne IEDs."
A reporter called the drone strike "a complete and utter failure" and asked the general to explain how it could have happened.
"Well, this particular strike certainly was a terrible mistake. We certainly regret that. I've been very clear that we take full responsibility for it. At the same time, we were carrying on a number of complex operations designed to defend ourselves. We conducted a strike a couple days before ... that was very successful," McKenzie said.
"We conducted other operations across the battlespace to defend ourselves during this difficult 48-hour period when so many imminent threats were manifest. So While I agree with it, it did not come up to our standards and I profoundly regret it. I would not qualify the entire operation in those terms," he said.
When asked whether anyone would be held responsible, McKenzie said, "We're in the process right now of continuing that line of investigation. I have nothing for you now because that involved personnel issues."