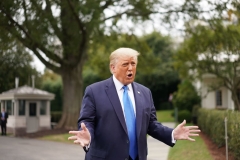 (CNSNews.com) - President Donald Trump said that millions of black Americans are returning to the Republican Party while Democrats like former Vice President Joe Biden take "black voters for granted."

"Our movement is welcoming millions of black Americans back to the Republican party, the party of Frederick Douglass and Abraham Lincoln," the president said.

"When I ran for president four years ago, I looked at the dismal and shameful record of the Democrat Party and asked, black Americans, 'what the hell do you have to lose?' And they all said, you shouldn't use the word 'hell,' but I said it's just, just more descriptive. It doesn't work as well without it," Trump said.

"For decades, Democrat politicians like Joe Biden have taken black voters for granted. They made you big promises before every election, and the moment they got to Washington, they abandoned you and sold you out," he added.

The president ticked off a list of accomplishments his administration has done for the black community, especially orchestrating the lowest black unemployment in history.



Before the China virus, we built the greatest economy for African-Americans in the history of our country, and we are doing it again. In the first three years, we achieved the lowest black unemployment rate in history. The black youth unemployment rate reached an all-time low. We achieved the largest job gains for African-Americans on record.

Black Americans saw the largest increase in homeownership. The poverty rate for African-Americans reached the lowest level ever recorded, and last year, 811,000 African-Americans were lifted out of poverty - the most in over 51 years.

In my first three years we lifted 6.6 million people out of poverty, the largest poverty reduction of any president in the history of our country. I did more for the black community in 47 months, so they use that line so I don't want to ruin it by saying the second time - it was in the video -- but I will say it again, than Joe Biden did in 47 years. 

And I'm here today to announce a brand-new plan to deliver more opportunity, more security, more fairness and more prosperity to black communities. We call it the Platinum Plan. The Platinum Plan, and that's a contract with black Americans, and it's going to be something that people talk about for a long time to come. 

If you vote Republican over the next four years we will create 3 million new jobs for the black community, open 500,000 new black-owned businesses, increase access to capital in black communities by $500 billion, and this includes investing in community development, financial institutions and minority depository institutions, build up peaceful and safer urban neighborhoods with the highest standards of-- and you know this ---of policing. 

We want the highest standards. We have the highest standards of policing, bring even greater fairness to the justice system. We did criminal justice reform. Remember that? We will create a national clemency project to write wrongful prosecutions and to pardon individuals who have reformed their life. 

The president also pledged to "create a ladder of opportunity for African-American children by delivering school choice to every parent in America, give black churches the ability to compete for federal resources for their communities, bring better and tailored health care to address the historic disparities that we've had for so many years" including "investing in treatments for kidney disease, diabetes, high blood pressure, sickle cell disease and maternal mortality."

He also promised to advance "homeownership and wealth building in the black community" and "bring more manufacturing back" to the U.S.