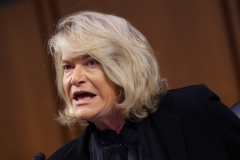 (CNSNews.com)—When asked whether someone who doesn't know what a woman is should serve on the Supreme Court, Sen. Cynthia Lummis (R-Wyo.) said, "To me, that statement alone is disqualifying for someone who's going on the United States Supreme Court."
At the Capitol on March 24, CNSNews.com asked Sen. Lummis, "On Tuesday, during the hearing, Senator Blackburn asked Judge Jackson to define the word 'woman' and Judge Jackson said, 'No. I can't.' Should someone who does not know what a woman is serve on the Supreme Court?"
The senator said, "Now that to me is the most disturbing thing that has occurred, that has had very little conversation. I was in school before Title IX, so I didn't get to participate in women's sports. I was not allowed to be in FFA (Future Farmers of America). Shortly after I graduated from high school, girls received a benefit of Title IX and it's been such a healthy transformation to have girl sports in school, and then carrying on through the college and professional ranks in terms of personal, physical, mental, disciplined development for girls it's just, it's so positive."
"So, during a time when biological men are getting to compete as women and outperform them in college sports, I'm really concerned when a woman who is going on the U.S. Supreme Court doesn't know what a woman is and will not state so publicly," said Lummis.
"That affects over half of the population, there's slightly more women than men in the United States," she added.  "To have that kind of response of ambiguity towards more than half of the population, I find so disturbing that I can't get there in terms of supporting her. To me, that statement alone is disqualifying for someone who's going on the United States Supreme Court."
CNSNews.com followed up with, "Could you provide a definition of the word 'woman'?"
"Yes, if I were her, I would've said, our chromosomes define what is a man and what is a woman," said Lummis. "They're easily discernible chromosomes and it doesn't require one being a biologist to make that assessment."
On Tuesday at the confirmation hearings before the Senate Judiciary Committee, Sen. Marsha Blackburn (R-Tenn.)  asked Judge Ketanji Brown Jackson if she could define the word woman, and she responded saying that she could not.
Sen. Blackburn: "Can you provide a definition for the word woman?"
Judge Jackson: "Can I provide a definition? No. I can't."
Sen. Blackburn: "You can't?"
Judge Jackson: "Not in this context, I'm not a biologist."
Sen. Blackburn: "Okay, so you believe the meaning of the word 'woman' is so unclear and controversial that you can't give me a definition?"
Judge Jackson: "Senator, in my work as a judge, what I do is I address disputes. If there is a dispute about a definition, people make arguments, and I look at the law, and I decide. So, I'm not—"
Sen. Blackburn: "Well, the fact that you can't give me a straight answer about something as fundamental as what a woman is underscores the dangers of the kind of progressive education that we are hearing about.
"Just last week an entire generation of young girls watched as our taxpayer-funded institutions permitted a biological man to compete and beat a biological woman in the NCAA swimming championships. What message do you think this sends to girls who aspire to compete and win in sports at the highest levels?"
Judge Jackson: "Senator, I'm not sure what message that sends. If you're asking me about the legal issues related to it, those are topics that are being hotly discussed, as you say, and could come to the court. So, I'm not able to—"
Sen. Blackburn: "And I think it tells our girls that their voices don't matter. I think it tells them that they're second-class citizens, and parents want to have a Supreme Court justice who is committed to preserving parental autonomy and protecting our nation's children."