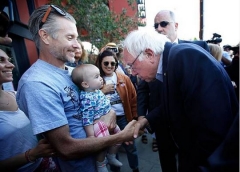 (CNSNews.com) - Sen. Bernie Sanders (D.-Vt.) sent out a Tweet on Tuesday vowing to change the value system of the United States of America.
"Our campaign is not only about changing the system politically and economically," he said. "We will change the value system of this country.
"We're not going to worship corrupt billionaires anymore," he said.
Sanders received a 100-percent rating for 2018 from NARAL Pro-Choice America, which determined that he had voted the way they wanted senators to vote one every one of 15 issues that came before the Senate during the year.
One of these was a bill that would have banned abortion after 20 weeks of gestation. Sanders voted to kill that bill by opposing cloture on it. That was rated as "plus" by NARAL.
Similarly, Sanders also had a 100-percent rating from the Planned Parenthood Action Fund. That perfect rating also depended on Sanders' voting to block the ban on abortions after 20 weeks of gestation.