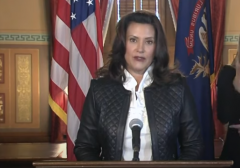 (CNSNews.com) - After Michigan Governor Gretchen Whitmer blamed President Trump of being "complicit" in the plot to kidnap her, President Trump tweeted that she should be thanking him, because "my Justice Department...foiled a dangerous plot."
Trump also repeated something he's said many times before: "I do not tolerate ANY extreme violence."
Trump's tweets followed Whitmer's comments at a press conference:
"Our head of state has spent the past seven months denying science, ignoring his own health experts, stoking distrust, fomenting anger, and giving comfort to those who spread fear and hatred and division," Whitmer said.
"Just last week the president of the United States stood before the American people and refused to condemn white supremacists and hate groups like these two Michigan militia groups. 'Stand back and stand by,' he told them, 'stand back and stand by.'
"Hate groups heard the president's words, not as a rebuke, but as a rallying cry, as a call to action. When our leaders speak, their words matter. They carry weight. When our leaders meet with, encourage, or fraternize with domestic terrorists, they will legitimize their actions, and they are complicit. When they stoke and contribute to hate speech, they are complicit," the governor said.
To which Trump replied in three tweets:
Governor Whitmer of Michigan has done a terrible job. She locked down her state for everyone, except her husband's boating activities. The Federal Government provided tremendous help to the Great People of Michigan. My Justice Department and Federal Law Enforcement announced...

...today that they foiled a dangerous plot against the Governor of Michigan. Rather than say thank you, she calls me a White Supremacist—while Biden and Democrats refuse to condemn Antifa, Anarchists, Looters and Mobs that burn down Democrat run cities...

...I do not tolerate ANY extreme violence. Defending ALL Americans, even those who oppose and attack me, is what I will always do as your President! Governor Whitmer—open up your state, open up your schools, and open up your churches!
Whitmer told CNN's Erin Burnett Thursday night, "[W]e know every time that this White House identifies me or takes a shot at me, we see an increase in rhetoric online, violent rhetoric, and so, there's always a connection, and certainly, it's something that we've been watching. But this took it to a whole new level."
Whitmer, once named as a potential running mate for Joe Biden, faulted the Trump White House for not checking in on her to see if she was okay, "which is what Joe Biden did."
"It tells you everything you need to know about the character of the two people on this ballot that we have to choose from in a few weeks," she said.
She said her husband and children "have seen people with automatic rifles on our front lawn more weekends than -- than I care to name how many."
Whitmer also took a swing at Attorney General Bill Barr, when host Erin Burnett asked her if she believes Barr knew about the plot to "attack, storm and kidnap you."
"If he didn't, he's incompetent," Whitmer said.
You know, the fact of the matter is, I have raised this very issue with this White House and asked them to bring the heat down. I have asked leaders, Republican leaders in the state, let's bring the heat down.

I was aware of a lot of the threats that were being made against me and my family, and I asked for their help and they didn't do a darn thing about it, and then denied even knowing that it was a problem. And here we are, we came very close to a plot that was to kidnap me and to murder. That is what the affidavits say.

Also, to hurt law enforcement, to bomb our Capitol, meaning all the press and the Democrats and Republicans in our Capitol. This cannot stand. And we have to call it out for what it is. It is domestic terrorism.

And I quoted Ronald Reagan in my comments earlier today, because there are good Republicans who stand up and take this on. And I would like to acknowledge Charlie Baker, the governor of Massachusetts, who called to check in on me.

That's what decent people do. That's what good American leaders do.
The Justice Department announced on Thursday that six men were under arrest, charged with conspiring to kidnap Whitmer from her vacation home in northern Michigan.
The Michigan Attorney General announced the simultaneous arrest of seven other individuals on state charges of providing material support of terroristic activities and of possessing a firearm in the course of that offense.
The FBI began investigating earlier this year after learning through social media that a group of individuals was discussing the violent overthrow of certain government and law enforcement entities.
According to the FBI:
On two occasions, members of the alleged conspiracy conducted coordinated surveillance on the Governor's vacation home. Fox and Croft (two of the suspects) discussed detonating explosive devices to divert police from the area of the vacation home and Fox even inspected the underside of an M-31 highway bridge for places to seat an explosive, according to the complaint.

Among other activities, the complaint alleges Fox purchased a taser for use in the kidnapping and that the group successfully detonated an improvised explosive device wrapped with shrapnel to test its anti-personnel capabilities. The FBI and Michigan State Police executed arrests as multiple conspirators met to pool funds for explosives and exchange tactical gear.
The investigation is ongoing.