(CNSNews.com) – An Atlanta rapper whose sexually-explicit lyrics leave nothing to the imagination campaigned on behalf of Georgia Democratic Senate hopefuls Jon Ossoff and Reverend Raphael Warnock on Monday, urging voters to "paint Georgia blue" and "get both of those Senate seats."
Performing at a campaign drive-in concert in the parking lot of the New Birth Missionary Baptist Church in Lithonia, Ga., BRS Kash changed the title of his song, "Throat Baby" to "Vote Baby," and adapted some of the other lyrics.
"I love the way you walk, love the way you talk, Let a young n**** come play in your throat," became "I love the way you walk, love the way you talk, let's all go walk to the polls."
After performing, BRS Kash said, "Hey if you wanna make a change, early election has already started. I need everybody to go vote by January 5. We need to paint Georgia blue, we need to get both of those Senate seats. So I need everybody to go vote for Jon Ossoff and Reverend Warnock."
The lyrics of "Throat Baby" are too graphic to reproduce here, but include offensive terms for women and blacks, along with explicit references to sexual activity, genitalia, and bodily fluids.
Warnock, the pastor of Atlanta's Ebenezer Baptist Church, and Ossoff are up against Republican Sens. Kelly Loeffler and David Purdue in the January 5 runoff, the outcome of which will determine control of the U.S. Senate.
"It's time we had a politics that was founded on love," Ossoff told the event. "Empathy, decency, compassion, respect for human rights."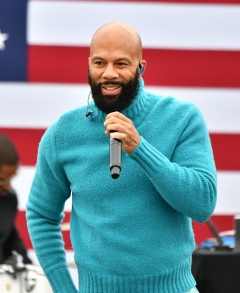 Earlier this month another sometimes controversial rapper campaigned on behalf of the two Democrats in Georgia.
Lonnie Lynn, a Grammy award-winning rapper and author known by the stage name Common, performed at a campaign rally in Garden City, Savannah.
In 2011, First Lady Michelle Obama invited Lynn to read poetry at the White House, angering the New Jersey State Police union, given that one of his songs celebrates Joanne Chesimard, a Black Liberation Army activist who killed a police officer in New Jersey in 1973, escaped from a life sentence in 1979, and was later granted asylum in Cuba. She remains on the FBI's "most wanted terrorists" list.
The controversy was raised during a White House press briefing on May 11 of that year, with press secretary Jay Carney saying in response to queries that President Obama "has spoken very forcefully out against violent and misogynist lyrics."
"In regard to the concerns by some law enforcement, this president's record of support for law enforcement is extremely strong," he said. "He remains committed to the men and women who protect the American citizens and put themselves in harm's way all the time."
Carney also suggested the row was overblown: "We do think that some of these reports distort what Mr. Lynn stands for, more broadly, in order to stoke a controversy."
Asked about remarks about killing police officers, he said that Obama "opposes those kinds of lyrics. He thinks they're harmful."
"It's ironic to pick out those particular lyrics about this particular artist, when in fact, he's known as a socially conscious hip-hop artist or rapper who has done a lot of good things," Carney said. "You can oppose some of what he's done and appreciate some of the other things he's done."