(CNS News) -- Commenting on Supreme Court nominee Ketanji Jackson, who claims she cannot define the word "woman," and transgender swimmer Lia Thomas, a biological male who is winning awards by competing against real women, Rev. Franklin Graham said that those who are pushing this perverse agenda want to "ignore science, biology, and fact" and the "truth of God's Word."
"Where are we going as a nation when a nominee for our highest court will not define what a woman is?" said Graham in a March 25 post on Facebook.
"When USA Today names a biological man as a 'Woman of the Year'?" Graham asked.  "And when biological males are allowed to participate in women's high school and college athletic programs and take titles away from females who have worked their entire lives to achieve excellence in their sport? Can you believe it has gone this far?"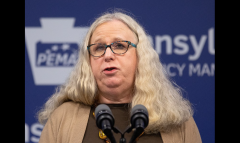 USA Today named Dr. Rachel Levine, the U.S. Assistant Secretary of Health and Human Services, as one of its 12 women of the year for 2022. Levine is a biological male who claims to be a transgender female. 
Lia Thomas is a transgender female (biological male) who swims for the University of Pennsylvania. Thomas won the NCAA Division I championship in March, competing against real biological women. 
During hearings before the Senate Judiciary Committee last week, Judge Jackson was asked if she could define what a woman is. Jackson replied, "No, I can't. ... I'm not a biologist."
"Those pushing this agenda want everyone to ignore science, biology, and fact—and most importantly, to ignore the truth of God's Word," said Graham. "Men and women are made differently—That's a Fact. They have different chromosomal makeup—That's a Fact. God, our Creator, designed it that way—That's a Fact."
"The Bible warns us about denying the truth of His Word and the order of His Creation," Graham continued. "'And since they did not see fit to acknowledge God, God gave them up to a debased mind to do what ought not to be done.'" (Romans 1:28)
Graham concluded, "With all the deceit and confusion swirling around us, we need to pray more than ever for those lost in darkness to be brought to the light."
Romans 1:22-27 (KJV) reads, "Professing themselves to be wise, they became fools, And changed the glory of the uncorruptible God into an image made like to corruptible man, and to birds, and four-footed beasts, and creeping things.
24 Wherefore God also gave them up to uncleanness through the lusts of their own hearts, to dishonour their own bodies between themselves:
25 Who changed the truth of God into a lie, and worshipped and served the creature more than the Creator, who is blessed for ever. Amen.
26 For this cause God gave them up unto vile affections: for even their women did change the natural use into that which is against nature:
27 And likewise also the men, leaving the natural use of the woman, burned in their lust one toward another; men with men working that which is unseemly, and receiving in themselves that recompence of their error which was meet."
Franklin Graham is the son of the late Pastor Billy Graham, and currently oversees the Billy Graham Evangelistic Association and the humanitarian aid group Samaritan's Purse.