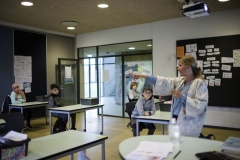 (CNSNews.com) - California Gov. Gavin Newsom is considering opening schools for the new school year in July.

If so, California State Superintendent of Public Instruction Tony Thurman told "CNN Tonight with Don Lemon" on Tuesday that that may mean smaller classrooms, students wearing masks, lots of hand sanitizer and maybe even going to school in shifts.

"I think what we heard from our governor is some optimism, because we've seen fewer cases of diagnosis, and our governor's been signaling that we've got to start to think about how we reopen schools, how we reopen businesses. Clearly, if we're going to be open for school, it's going to have to still be in a social distancing kind of way," Thurman said.

"So imagine students wearing masks, smaller number of students in a classroom. We're going to have to have a lot of sanitizer and ability to wash down classrooms and make sure our schools are safe," he said.

Thurman said the most important thing driving the decision "is safety and a signal from our public health officers that we can move forward."

"Our governor's just giving us a call, start thinking forward about how schools might reopen as early as July or August," he said.

As far as how to protect teachers and students with underlying health issues, Thurman said, "Unless something changes in terms of what we're seeing about the virus, we're going to have to continue to do all the things that we've known, that those who have underlying health conditions need to be away from places where they may be at risk. 

"We'll be having conversations with educator groups, with administrators, you know, with parents and others, with the Department of Public Health and our Office of Emergency Services. Tomorrow I'll be meeting with the heads of many of those agencies," he said.

"I've even convened a task force with superintendents from other states so that we can all talk about best practices as we anticipate what opening might need to be. Our first call has to be safety for our students and for the people who serve them," Thurman said.

When asked whether he would consider shorter school hours, Thurman said, "There is some thought that given that -- for us to have smaller class sizes, say, if we ended up with 10 students in a class there's some consideration that we may have to have shifts in how school operates, that there may need to be a morning shift and an afternoon shift."

"This is not easy work. We've got 6.2 million students who right now are all learning at home through distance learning, and I want to commend our students and their teachers and their parents for the great work they're doing through distance learning," he said.

"As we think ahead we have to think about how we might be able to open schools safely. That means smaller class sizes, sometimes in tight spaces. So we've got to give a lot of thought to how we're going to do that and how we're going to do that safely," Thurman added.