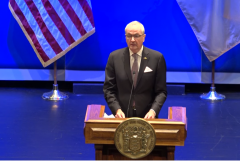 (CNSNews.com) - The federal Centers for Disease Control and Prevention says vaccinated people don't have to wear a mask indoors or out -- but New Jersey Governor Phil Murphy (D) says not so fast.
"We're just not ready yet," Murphy told CNN's Jake Tapper on Monday:
"We've been clobbered not once, but twice. We've lost over 26,000 people. We know the virus is more lethal indoors, and you're asking somebody who is at the hardware store working there or in a retail or a grocery store to make the judgment on who's vaccinated and who's not.
"We're not there yet," Murphy continued. "We're close. I think we're -- you know, within a matter of weeks of getting to a better place. Our density usually helps us. Not in a pandemic. We want to make sure we get this right."
Murphy said he'd "feel better" about unmasking if businesses required customers to show proof of vaccination, although the Biden administration has ruled out so-called vaccine passports at the federal level.
"Listen, I think we were the first state in America to put in place an indoor masking requirement. We know it's been hugely helpful. If we can save only one more life by waiting a couple weeks longer, I'll sign up for that," Murphy said.
Murphy said he's monitoring "a series of health data points," such as positivity rates, virus transmission, and hospitalizations, that seem to be going in the right direction.
"We've got the virus on the run at long last. Twice before we thought we had this thing on the run and it came back and clobbered us again.
"I don't want to -- I don't want to see that again. We're the only state in America I think who has not lurched in one respect. In other words, opened up something and that had to pull back. I don't want to start now, Jake."
Host Jake Tapper noted that a majority of New Jersey residents remain unvaccinated. Murphy agreed, "That's a fact."
The governor said the state has launched a number of programs to encourage vaccination, including "shot and a beer" with New Jersey breweries. "We went from this period when people came to the vaccine. Now we have got to bring the vaccine to the people, and we're going to stay on it until we get there."