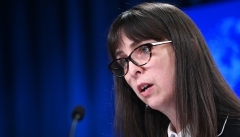 (CNSNews.com) – As the State Department released its annual report on human rights on Tuesday, a senior official was unable to say whether the Trump administration's decision – now reversed – to drop a subsection on "reproductive rights" in recent years' reports had any impact on reproductive health globally.
"That's an excellent question, and I'm not sure that we have an immediate answer for that," Acting Assistant Secretary Lisa Peterson of the State Department's Bureau of Democracy, Human Rights, and Labor told reporters. "I think that is something worth looking into."
"I think we as a bureau, if we find the means to do so, may need to take a look at that question of was there an impact by not having this reflected in the human rights report," she said.
Peterson was responding to a question on whether the department had determined "what the impact was of not having these sections in the report over the last few years, on reproductive health globally."
The Trump State Department said it had stopped including the subsection because the term "reproductive rights" has been interpreted and used by some activists around the world to encompass a "right" to abortion.
Secretary of State Antony Blinken explained Tuesday that the Trump administration's decision affects the new report, too, since it covers 2020. But he added that he has "asked our team to release an addendum for each country report later this year that will cover these issues."
"And we are restoring the practice of documenting these rights in 2021 and future years."
Blinken said the absent information related to issues like "maternal mortality, discrimination against women in accessing sexual and reproductive health care, and government policies about access to contraception and skilled health care during pregnancy and childbirth."  He did not use the word "abortion."
The decision to restore the subsection was "one of many steps – along with revoking the Mexico City Policy, withdrawing from the Geneva Consensus Declaration, resuming support for the United Nations Population Fund – that we are taking to promote women's health and equity at home and abroad," he said. "Because women's rights – including sexual and reproductive rights – are human rights."
The Reagan-era Mexico City Policy places restrictions on the use of taxpayer dollars to support abortions abroad. As Presidents Clinton and Obama did in 1993 and 2009, Biden rescinded it shortly after taking office.
The Geneva Consensus Declaration on Promoting Women's Health and Strengthening the Family," is a document endorsed by the U.S. and more than 30 other governments last fall which among other things declares "that there is no international right to abortion, nor any international obligation on the part of States to finance or facilitate abortion."
The Trump administration, like its Republican predecessors, defunded the U.N. Population Fund (UNFPA) under a legal provision prohibiting funding for any agency that "supports or participates in the management of a program of coercive abortion or involuntary sterilization." The UNFPA denies that its programs in China support Beijing's coercive population-control policies.
The Trump administration's decision to stop including the "reproductive rights" subsections in each country chapter of its human rights report evoked strong sentiment among Democrats in Congress.
Sen. Robert Menendez (D-N.J.) and Rep. Katherine Clark (D-Mass.) introduced legislation two years ago, with 32 Democratic senators and 144 Democratic representatives co-sponsoring, directing the State Department to restore the "reproductive rights" subsections to its annual report.
In the text of both the Senate and House bills, the subsections were to include information of whether a country had adopted and enforced policies to "expand or restrict access to safe abortion services."
The legislation, which ultimately did not advance, won the backing of scores of activist organizations, and from former Secretary of State Hillary Clinton, who said it "would correct the Trump administration's dangerous decision to remove reporting on reproductive rights" from the annual report.
Clinton was the secretary of state who in 2012 introduced the "reproductive rights" subsections, first doing so in the report that covered 2011.
Some issues dealt with under the "reproductive rights" subsections in the 2011-2017 reports, also appeared in reports before and after that period, but under other headings.
For instance, information about coercive abortions and involuntary sterilization in China's population-limitation program falls under the overall "Section 6: Discrimination, Societal Abuse, and Trafficking in Persons."
But while in the Obama era (post-2011), it came under a Section 6 subsection headed "reproductive rights," during the Trump presidency, it fell under a Section 6 subsection called "Coercion in population control."  Prior to 2011, it fell under a Section 6 subsection entitled simply, "Women."
Apart from the subsection/format differences, the information about China's abuses was substantively the same.
"Reproductive rights" language became more contentious in global discourse with the International Conference on Population and Development in Cairo in 1994 and the Beijing world conference on women in 1995.
Even then, the Clinton administration at the time made it clear it does not support any initiative "to establish any international right to abortion."
Over the ensuing years, both the Bush and Trump administrations resisted efforts to insert the term "reproductive rights" into U.N. documents, precisely because some do use it to claim a "right" to abortion.