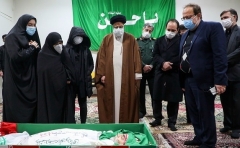 (CNSNews.com) – Iranian generals and regime officials are threatening to avenge the assassination of a top nuclear scientist, blaming Israel for the killing of the man who led Iran's nuclear weapons program until it was publicly suspended – but then allegedly continued to oversee clandestine work of concern to the international community.
Inside Iran and elsewhere, the assassination of Mohsen Fakhrizadeh is being compared to that early this year of Qods Force commander Qassem Soleimani.
Both killings removed from the battle field key cogs in the regime's military machine. Fakhrizadeh, whose body was circumambulated at leading Shi'ite shrines over the weekend ahead of burial on Monday, is, like Soleimani, being hailed as a leading martyr.
In the U.S., Sen. Bernie Sanders, former CIA Director John Brennan, and former Obama National Security Council member Ben Rhodes were among those denouncing the assassination – "reckless, provocative, and illegal" (Sanders), "an act of state-sponsored terrorism" (Brennan), and "an outrageous action aimed at undermining diplomacy between an incoming U.S. administration and Iran." (Rhodes).
Sanders' and Brennan's reactions featured in coverage of the killing in Kayhan, a hardline newspaper whose editor is appointed by supreme leader Ayatollah Ali Khamenei.
Kayhan's coverage also included an opinion piece suggesting a high-fatality revenge attack on the Israeli port city of Haifa.
"The only thing that makes this terror machine stop is the timely and tooth-breaking response," the paper said in a separate article. "The Zionists have proved many times that they do not understand any language other than the language of force. The law of an eye for an eye puts these cowardly creatures in their place. The Zionists are waiting."
Israel has not commented on the killing of Fakhrizadeh, who died Friday from wounds sustained in an attack on his car on the outskirts of Tehran. Pro-regime publications offered differing accounts of the attack, with some saying a truck bomb exploded before "five or six" gunmen opened fire on the vehicle, while the IRGC-affiliated Fars news agency claimed the fire came from a rigged "remote-controlled machine gun," insisting that "no human agents were present."
Fakhrizadeh was head of the defense ministry's Research and Innovation Organization, known by the acronym SPND. Most Americans likely never heard his name before, but experts have for years been tracking the doings of the secretive Fakhrizadeh, a man described in congressional testimony as "the A.Q. Khan of Iran's nuclear weapons development" – a reference to the founder of Pakistan's nuclear weapons program, a notorious proliferator of nuclear know-how to Iran, North Korea and Libya.
Iran has long denied ever having sought a nuclear weapons capability, but the International Atomic Energy Agency (IAEA) determined in 2015 that the regime up until 2003 conducted "a range of activities relevant to the development of a nuclear explosive device" – with some of those activities continuing beyond 2003.
In a 2011 report, the U.N.'s nuclear watchdog said that even after the 2003 suspension of the weapons program, known as the AMAD project, some of the activities were later continued, with Fakhrizadeh retaining the "principal organizational role."
"The Agency is concerned because some of the activities undertaken after 2003 would be highly relevant to a nuclear weapon program," the IAEA said at the time.
In 2018, the Israeli government revealed that it had secretly obtained, from a storage facility in Tehran, a massive archive of documents and CDs relating to Iran's nuclear program.
Prime Minister Binyamin Netanyahu said documents showed that, after 2003, Iran had devised a plan to "preserve the nuclear know-how" it had achieved, and "to further develop its nuclear weapons related capabilities."
He quoted from one of the stolen documents, in which Fakhrizadeh purportedly said project AMAD would be declared shut, but that "special activities" would continue in new organizations. According to Netanyahu, these included SPND.
"You will not be surprised to hear that SPND is led by the same person that led Project AMAD, Dr. Fakhrizadeh, and also, not coincidentally, many of SPND's key personnel worked under Fakhrizadeh on Project AMAD," he said. "So this atomic archive clearly shows that Iran planned, at the highest levels, to continue work related to nuclear weapons under different guises and using the same personnel."
'Center of gravity'
"Fakhrizadeh was at the heart of the Iranian nuclear program and has been for years, not only the brains but also the passion behind it," former chairman of the Joint Chiefs of Staff, Admiral Michael Mullen, told NBC's "Meet the Press" on Sunday.
"So his assassination is really a significant event, not unlike a year ago when we took out Soleimani. It's a real, real center of gravity, if you will, for that program."
Mullen said that "a nuclear weapon in Iran is an existential threat to Israel and Israel will do all it can to make sure that never happens."
He noted rising tensions over the weekend, and expressed the hope that "President-elect [Joe] Biden can actually reach in and calm the waters."
Ahmad Vahidi, a former defense minister and Qods Force commander who now heads the Supreme National Defense University – and is wanted for international terrorism – said Iran would respond to Israel in a manner and in an arena which it will itself determine.  He also accused the U.S. of having given Israel the green light for the operation.
Qods Force commander Esmail Qaani, Soleimani's successor, vowed to work with the other "guardians" of Iran to take revenge on "the terrorists and their masters."
Ali Akbar Velayati, a former foreign minister who advises Khamenei on foreign affairs, stated, "The Iranian nation will avenge the blood of this high-ranking martyr from terrorist elements and their supporters."
President Hassan Rouhani's chief of staff, Mahmoud Vaezi, said, "Undoubtedly, all the agents and leaders of this mercenary movement will soon be identified and will receive a harsh response from the Iranian people, with the efforts of the military and security forces."