(CNSNews.com) – Canada and Australia have confirmed that they, like the United States, will not be participating in the United Nations' commemoration later this year of the so-called Durban process, an "anti-racism" initiative that has been plagued by controversy since its launch with the World Conference Against Racism two decades ago.
Australian Prime Minister Scott Morrison announced Thursday that his government would not attend the event, planned in New York during the high-level opening of the U.N. General Assembly session in September, citing the singling out of Israel.
"We will not associate Australia with one-sided and contentious language that singles out Israel or an event that champions such language," Morrison told an Australia-Israel Chamber of Commerce event in Melbourne.
"This is entirely consistent with my government's very strong voting position on U.N. General Assembly resolutions, in the Human Rights Council and elsewhere," he said. "We will continue that same approach to Durban IV later this year."
"I do not accept that anti-Semitism, cloaked in the language of human rights, serves any justified purpose nor the cause of peace," Morrison added.
"Durban IV" refers to the planned event to mark the 20th anniversary of the WCAR, held in the South African city of Durban, and the document it produced, the Durban Declaration and Program of Action (DDPA).
Durban II was a follow-up conference in Geneva in 2009, and Durban III was a 10th anniversary event in New York in 2011.
Like the WCAR itself, those events were dogged by allegations of anti-Israel bias, and the U.S. joined a handful of Western democracies boycotting them.
Leaders of the Australia/Israel & Jewish Affairs Council (AIJAC), present at the event in Melbourne, thanked the prime minister for his stance, with executive director Colin Rubenstein saying the Morrison government, like its predecessors in 2009 and 2011, "has stood firm in opposition to the anti-Israel hate that is an unfortunate hallmark of these so-called anti-racism conferences."
Jeremy Jones, AIPAC's director of international and community affairs, who attended the WCAR in 2001, commented that "no genuine anti-racist would want anything to do with this tarnished Durban process."
A State Department spokesperson on background confirmed to CNSNews.com this week that the Biden administration will not participate in Durban IV – even though it delivered a joint statement on racism at the Human Rights Council in Geneva in March that included a reference to the DDPA.
"The joint statement on racism includes a brief reference to the fact that the Durban conference happened 20 years ago and in no way reflects a change in our position regarding the problematic portions of the document or the process that led to its creation," the official said.
CNSNews.com has reached out to the dozen governments that, like the U.S., stayed away from either one or both of the Durban events in 2009 and 2011, to ask their position on this year's one.
The countries that stayed away from Durban II and III were Australia, Canada, Czech Republic, Germany, Israel, Italy, Netherlands, New Zealand, Poland, and the United States. Austria, Britain, Bulgaria, and France joined them in boycotting the 2011 event.
Canada, which led the way in boycotting the earlier events, confirmed on Thursday that it will not take part.
"Canada remains committed, at home and abroad, including at the U.N., to advancing human rights, inclusion and combatting antisemitism, islamophobia and systemic racism in all its forms," said Global Affairs Canada spokesperson Grantly Franklin.
"Canada opposes initiatives at the United Nations and in other multilateral forums that unfairly single out and target Israel for criticism," he said. "Canada is concerned that the Durban process has and continues to be used to push for anti-Israel sentiment and as a forum for antisemitism. That is why we do not plan to attend or participate in events surrounding the 20th anniversary of the Durban Declaration and Program of Action."
The Dutch and Austrian foreign ministries in response to queries said the European Union was currently considering its stance on the September event.
"No decision has been taken by Austria at this stage on whether or not to participate in the said meeting," said Austrian spokesperson Johannes Aigner.
"Currently the E.U. is still negotiating the modalities and the foreseen outcome," said Dutch foreign ministry spokesperson Anne de Ruijter. "We are not yet in a position to decide on our participation."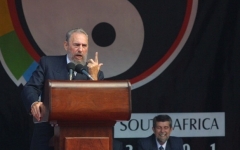 Amid a concerted push by some to equate Zionism with apartheid, and fiery debate over language critical of Israel, the George W. Bush administration walked out of the WCAR in 2001, as did Israel's delegation. Critics described the conference, and especially a parallel forum of non-governmental organizations – Yasser Arafat and Fidel Castro were drawcards – as a "hate-fest."
In the DDPA, no country apart from Israel was singled out directly for supposedly racist policies. The document listed "Palestinian people under foreign occupation" under a subheading "Victims of racism, racial discrimination, xenophobia and related intolerance."
At Durban II in 2009, then-Iranian President Mahmoud Ahmadinejad called Israel the world's "most cruel and racist regime," prompting a walkout by some European delegates that had chosen to attend.
The Trump administration last December voted against the U.N. operating budget, having earlier sought to remove funding earmarked for the planned Durban IV event.
"Twenty years on, there remains nothing about the Durban Declaration to celebrate or to endorse," then-U.S. Ambassador Kelly Craft told the world body on the last day of year, explaining the U.S. decision to vote against the budget.
"It is poisoned by antisemitism and anti-Israel bias. It encourages restrictions on the freedom of expression. It exists to divide and discriminate and runs contrary to the laudable goal of combating racism and racial discrimination."