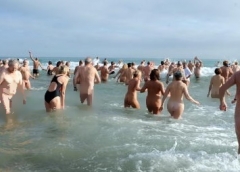 (CNSNews.com) – Amid a resurgence of COVID-19 cases in France, a new cluster at a popular Mediterranean nudist resort is alarming health professionals, after tests found a rate of infection four times higher than that in a nearby village.
Around 100 vacationers at the beach resort near the city of Cap D'Agde in southern France tested positive for the coronavirus on Sunday, while more results are awaited. Around 50 others who had left the resort and returned to their homes have also been confirmed to have COVID-19.
Authorities have ordered those using the beach to wear masks and practice physical distancing.
The general director of the health  agency of the area, Pierre Ricordeau, suggested that complacent behavior has led to the high rate of infections.
"Infections are everywhere," he told reporters. "The message is the same for all: wear masks, wash your hands, and keep social distancing – whether you practice naturism or not."
The prefet, or government representative for the area, voiced concern about the situation at the resort, urging those who visited recently to be tested, and advising those planning a visit to hold off for now.
He also shut some businesses, including four bars, inside the resort. In the nearby city of Agde, residents have been instructed to wear masks, and restaurants and bars are to close an hour earlier than usual.
Health authorities said most of those infected at the resort were younger people. The naturist village attracted nearly 35,000 people each year, about half of them from abroad.
President Emmanuel Macron on Tuesday chaired a meeting of his Defense Council to discuss how to manage the pandemic, as the number of cases and deaths have climbed in recent weeks.
Almost 5,000 new confirmed cases of COVID-19 were reported on Sunday.
As of Tuesday, the total number of confirmed cases in France since the crisis began exceeds 270,600, and more than 30,500 deaths have been attributed to the disease. That's the third-highest death toll in Europe, after Britain and Italy, and the seventh-highest globally.
The meeting in Paris discussed the evolution of the pandemic, and protocols for the coming months for businesses, schools, transportation, and sports and cultural events.
Wearing a mask will be compulsory in most large cities,  and starting September 1, in all businesses that choose to open, as well as colleges, high schools and universities. Other rules for schools and universities will be issued in the coming days.
Schools from kindergarten to high school are due to open, as scheduled, on September 1. Other educational institutions begin the academic year on various dates between mid-September and mid-October.
Arnaud Fontanet, an epidemiologist at the  Paris Pasteur Institute and a member of the government's Scientific Council on COVID-19 said in a radio interview that a regular increase in the number of infections has been recorded since mid-June, an average increase of 30 percent per week. This resulted in an increase in the number of people hospitalized, about 15 percent per week, he said.
"There is a big difference between people over 50, and those under 50 when it comes to the risk of being hospitalized or getting serious complications."
Fontanet predicted that the pandemic would "progress strongly as winter approaches" and people spend less time outdoors, saying that infections tend to be more common in confined spaces.