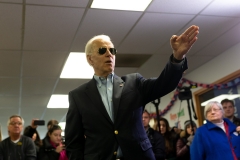 Throughout history, various presidents have asked the American people for their prayers in times of crisis, and have even called for a day to be devoted to prayer on a nationwide basis. Abraham Lincoln made such an appeal during the Civil War.
The formal observance we know as the National Day of Prayer was instituted in 1952 under President Harry Truman. Since 1988, an official prayer breakfast has been scheduled annually, led by the president on the first Thursday of May.
Joe Biden marked this year's National Day of Prayer — conducted "virtually" because of pandemic restrictions — with a video proclamation. But there was something different, and rather strange, about this presidential entreaty. If, indeed, Biden was praying, we don't really know who it was he was praying to.
Terms like "God" or "Father" weren't included in his statement. There was no reference to even so general a concept as "deity" or "The Almighty."
Predictably, Biden couched his remarks in that inclusive way we would expect in this age of diversity and multi-culturalism. He noted how "Americans of many religions and belief systems have turned to prayer for strength, hope, and guidance." And he observed specifically how praying "has nourished countless souls and powered moral movements…."
The moral movements he cited were every bit as predictable, including "essential fights against racial injustice, child labor, and infringement on the rights of disabled Americans."
(Naturally, nothing was said about the role of prayer in fighting against abortion. Now there's a moral movement for you.)
And he credited "the role that the healing balm of prayer can play in our lives and in the life of our nation" as we "continue to confront the crises and challenges of our time — from a deadly pandemic, to the loss of lives and livelihoods in its wake, to a reckoning on racial justice, to the existential threat of climate change.…" He even touched on eradicating "political extremism."
But while covering so much ideological ground, Biden gave no indication that he was praying to anyone or anything in particular, not to a "Great Spirit," or to a "Great Om," or even to a secular conception such as the "conscience of the American people." If his words reflected any kind of religious supplication, they were offered in the vaguest way imaginable.
This presidential "prayer" was reflective of a great deficiency that besets our time. The influence of faith in our national life (and in individual lives) has surely been reduced. Many people these days claim to be "spiritual" but not "religious." This leaves them asking a fundamental question: Is there a God who gave us life and to whom we are responsible?
The implications of this question are far-reaching, because the underlying assumption of our political system — as made clear in the nation's founding documents — is that our rights and freedoms come from God, not government.
What does it say that the president of the United States makes no recognition of God during an event that has always highlighted the importance of appealing to that God?
This all puts me in mind of a nun who taught my friends and me back in Catholic school days. Sister once told a story about how Communists try to discredit religion. She related an incident in which Russian school children were instructed to pray and ask God for lunch. When no lunch showed up, they were told to pray to the Soviet State — upon which a sumptuous meal was provided.
The not-very-subtle point, of course, was that Mother Russia meets all her children's needs. Not some mythical spirit.
If Sister were around these days, I think she'd hear an echo of such ideological trickery in Biden's proclamation. Or maybe she'd just shake her head at the great emptiness that passes for current political thought and rhetoric.
Either way, Biden's prayer to no one says a lot about conditions in our country right now. And maybe that's what we should really be praying about.
A priest of the Diocese of Camden, New Jersey, Rev. Michael P. Orsi currently serves as parochial vicar at St. Agnes Parish in Naples, Florida. He is host of "Action for Life TV," a weekly cable television series devoted to pro-life issues, and his writings appear in numerous publications and online journals. His TV show episodes can be viewed online here.