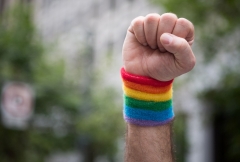 From Founding Fathers to conservative authors and actors, every day finds someone new being deplatformed, canceled, sidelined, or boycotted.
Cancel culture is moving beyond individuals to whole institutions. Following the formula set by Saul Alinsky, radicals have acquired enough power through the institutions they have taken over – universities, media, and now politics – that they are ready to eliminate institutions they have not yet conquered.
In January, when Amazon and the other tech giants shut down social media site Parler, they were not merely promoting their own business interests; they were eliminating a company and its platform for users of a particular political stripe. Some of what Parler allowed to be posted was truly reprehensible, but as J.S. Mill – one of the intellectual forbears of liberalism – would have argued, why not allow such speech to be exposed to the sunlight? "Shut them down."
Liberals have been boycotting conservative companies for years, from Chick-fil-A and In-n-Out Burger to My Pillow and New Balance. They gleefully encouraged corporate donors to cancel their political contributions to Republicans after the Jan. 6 riot at the U.S. Capitol. "Shut them down."
But rumblings of this assault on institutions have been felt for years.
Remember Lois Lerner and the IRS scandal? The Obama Administration used the IRS to inhibit the formation of conservative organizations by slow-rolling their applications for tax-exempt status. Her efforts may well have influenced the 2012 elections, as Tea Party-affiliated groups were unable to muster their get-out-the-vote efforts. "Shut them down."
In 2016, the California legislature considered SB 1146, a bill which targeted the religious beliefs of Christian colleges and would have forced them to provide housing for same-sex couples and bathrooms for transgender persons. If passed as written, the bill likely would have forced the closure of several Christian universities, as they chose between their religious principles and the Cal grants that enable students to attend. "Shut them down."
In the past few years, the largest-scale efforts to cancel whole institutions could be found among the supporters of "Abolish ICE" and "Defund the Police." Radicals in places like Minneapolis want to replace law enforcement agencies with "public safety" agencies with different missions and guidelines. The progressive "Squad" in Congress continues to harp on the Abolish ICE message, though their fellow Democrats have pulled back from those calls. But as the immigration crisis on the US southern border continues, these radicals are as discontent with Biden's border policies as they were with Trump's.
Now, radicals feel ready to up the ante. Exhibit A:  H.R. 5, the Equality Act.
Section 9 of the Equality Act specifically denies any institution providing a "public accommodation" the right to use the Religious Freedom Restoration Act (RFRA) to defend its understanding of marriage and sex. While the text does not explicitly target private religious schools and universities, the Americans with Disabilities Act already defines those as "public accommodations." Supreme Court Justice Neil Gorsuch, who effectively rewrote the 1964 Civil Rights Act to redefine "sex," has called RFRA a "super-statute," but that is a slender reed upon which to defend a whole class of institutions.
Indeed the radicals will not be satisfied without shutting down institutions that hold to conservative views of marriage and sexuality. University of Virginia law professor Douglas Laycock has said of the Equality Act, "This is not a good-faith attempt to reconcile competing interests. It is an attempt by one side to grab all the disputed territory and to crush the other side."
Already we see signs of the chilling effect of this assault on institutions, before the bill is even signed into law. Bethany Christian Services, the largest Christian adoption agency in the U.S., announced that it will permit same-sex couples to adopt through their agency. They folded their cards, even before the Supreme Court rules on a recent case where the city of Philadelphia canceled its Catholic foster agencies.
The Equality Act transparently enshrines a deep inequality, where only beliefs that align with the transgender movement's demands will be acceptable in public. Institutions which hold to more traditional views, whether they are in education, services, housing, charities, and perhaps even churches, will be forced to give up their deeply held beliefs or shut down.
The "cancel culture" assault on individuals is rising, the assault on institutions is just beginning.
Dr. Tom Copeland is a politics professor at Colorado Christian University, and director of research at the Centennial Institute. The views and opinions expressed in this article are those of the author and do not necessarily reflect the official policy or position of Centennial Institute.