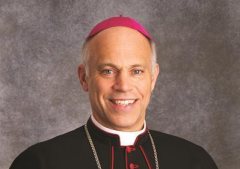 Although House Speaker Nancy Pelosi (D-Calif.) said she would use her own "judgment" on whether to receive Communion at Mass -- given her decades-long support for abortion -- her archbishop said today that it is his job to declare whether a pro-abortion Catholic politician should receive Communion.
The archbishop, Salvatore Cordileone, also stressed that "consistently advocating for abortion and euthanasia constitutes formal cooperation in grave sin."
Last week at the Capitol, Pelosi was asked, "The U.S. Archbishops and the Bishops Conference doesn't want you to receive Communion. Your remarks on that?"
Pelosi replied, "No, they don't. No. I think I can use my own judgment on that. I'm pleased by what the Vatican put out on that subject. Did you read that? ... [I]t basically says, 'Don't be divisive on the subject.'"
Today, as reported by LifeNews.com, Archbishop Cordileone said, "I'm happy to know that Speaker Pelosi said she is pleased with the letter of Cardinal Ladaria, Prefect of the Vatican's Congregation for the Doctrine of the Faith, to Archbishop Gómez, President of the United States Conference of Catholic Bishops, regarding the issue of Catholics prominent in public life who advocate for practices that are gravely evil. "
"In that letter, Cardinal Ladaria advises the U.S. bishops to use as a guide in discerning how to address this situation the principles laid out in a private letter in 2004 from the then-Cardinal Ratzinger, Prefect of the CDF at the time, to the bishops of the United States," said Cordileone.
He continued, "In his letter, Ratzinger [the future Pope Benedict XVI] confirmed that consistently advocating for abortion and euthanasia constitutes formal cooperation in grave sin, and that bishops must dialogue with Catholics prominent in public life who do so in order to help them understand the grave evil they are helping to perpetrate and accompany them to a change of heart."
"He goes on to say in that letter that, if these dialogues prove to be fruitless, then, out of respect for the Catholic belief of what it means to receive Holy Communion, the bishop must declare that the individual is not to be admitted to Communion," explained Cordileone.  "Speaker Pelosi's positive reaction to Cardinal Ladaria's letter, then, raises hope that progress can be made in this most serious matter."
"We must never lose sight of this fact: in the last 50 years, in the United States alone, 66,000,000 babies have been murdered in their mothers' wombs," said the archbishop. "This is not a matter about which one can use judgment.  It is a fact.  66,000,000 babies murdered in their mothers' wombs." (Emphasis added.)
"If we look around us and see what is happening in our society today, we will see that this fact once again demonstrates that violence begets violence," said Cordileone. "66,000,000 babies murdered in their mothers' wombs.  The response to a woman in a crisis pregnancy is not violence, but love."
Pelosi, a Catholic, is a staunch supporter of abortion, gay marriage, gay adoption, and other practices that are contrary to the teachings of the Catholic Church. President Joe Biden, Sen. Dick Durbin (D-Ill.), and John Kerry are in the same pro-abortion boat as Pelosi. 
The U.S. bishops will be meeting in June to discuss the issue of Communion for pro-abortion Catholics in public life, and whether to issue a statement on the topic.
Archbishop Cordileone has made it clear that he has a pastoral responsibility to teach the truth to pro-abortion Catholics and to hold them publicly accountable, if necessary. He explained this position in a May 1 pastoral letter, which he discusses in the video above.