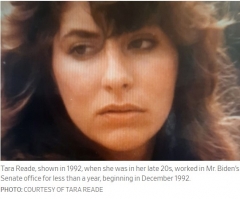 Tara Reade, who used to work for then-Sen. Joe Biden (D-Del.) in 1993, says she is willing to testify under oath about Biden's alleged sexual assault against her, according to a report by the Daily Caller. 
Reade claims that in 1993, when she worked as a staff assistant for the senator, he pushed her up against a wall in a hallway of the Russell Senate Office Building and put his hands under her blouse and under her skirt and digitally penetrated her. When she rebuffed his apparent advance, Reade claims Biden said to her, "You're nothing to me! You're nothing!"
On May 1, Joe Biden, who is running for the 2020 Democratic nomination for president, was finally asked by the liberal media about Reade's allegation and he told MSNBC's Morning Joe, "No. It is not true. I'm saying unequivocally, it never, never happened, and it didn't. Never happened."
In an interview with the Daily Caller News Foundation this week, Reade said, "Joe Biden, I want you to release all the personnel records from 1973 to 2009 and be transparent about your office practices."
"I would like to hold you accountable for what happened to me, to how your staff protected you and enabled you, bullied me multiple times into silence," said Reade.
She added: "You ended my career. You ended my job after you [allegedly] assaulted me. You claim to be the champion of women's rights, but your public persona does not match your personal actions."
"I want this brought to light and I want you to admit it in public," said Reade. "I want a public apology for calling me a Russian agent and having other people try to smear my character in order to cover your crimes."
On Wednesday, April 29,  The Washington Post editorial board had called on Biden to "address the Tara Reade allegations and release relevant records."  
"Tara Reade deserves to be heard, and voters deserve to hear her," said The Post. "They deserve to hear from Joe Biden, too."