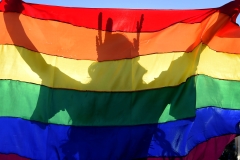 Although the University of Notre Dame in South Bend, Ind., is supposed to be a Catholic institution "defined by its Catholic character," it sponsors an LGBTQ+ alumni group that held a campus event this month to honor one of the plaintiffs in the Supreme Court case that legalized "gay marriage." The alumni association also gave an award to South Bend transgender activist Meghan Buell.
The Alumni Rainbow Community of Notre Dame (ARC) held its "ND LGBTQ+ Alumni -- Past, Present & Future -- A Celebration of Our Community's Journey" on the Notre Dame campus April 8-10, reported the National Catholic Register. 
A press release for the event read, "We encourage everyone who has participated in this journey over the past 30+ years, as well as more recent alums, to join your fellow LGBTQ alums & friends for this fun and memorable celebration."
On that Friday, April 8, the ARC ND held an alumni networking event, on Saturday it gave out awards, and on Sunday it had a Palm Sunday Mass, said The Register. 
The ARC ND was launched in January 2022. As part of Notre Dame's Alumni Association, the LGBTQ+ group says on its webpage that it "serves to strengthen the bonds of Notre Dame graduates to the University and to one another.  The mission of this board shall be to celebrate the presence and enrich the experiences of the LGBTQ members of the Notre Dame family and their allies."
At the event on April 9 an award was given to Greg Bourke, a 1982 alumnus who was a plaintiff in the 2015 Supreme Court case that legalized gay marriage. Another award was given to Meghan Buell, a transgender female (biological male).  Buell was given the Distinguished Service Award by the ARC ND. 
Bourke is married to Michael DeLeon and they have two children. Bourke is the author of Gay, Catholic, and American: My Legal Battle for Marriage Equality and Inclusion, which is published by University of Notre Dame Press.  On Twitter, Buell describes himself as "Advocating for trans people everywhere. Founder of trans education org, TREES, Inc."
An alumni group of faithful Catholics that oppose the Notre Dame sponsorship of the ARC, the Sycamore Trust,  is headed by 1952 alumnus William Dempsey. He told the National Catholic Register that the ARC ND awards event was a "scandal of the first order."
"Notre Dame's official blessing of an LGBT alumni group hostile to Church teaching on sex, marriage and gender has had its predictable result," he said.  "The very first act of the new official LGBT organization is sponsorship of an 'LGBT Awards Weekend' to celebrate prominent proponents of same-sex marriage and gender change."
Dempsey also cited a document issued by the U.S. Conference of Catholic Bishops entitled Catholics in Public Life. It partly reads, "The Catholic community and Catholic institutions should not honor those who act in defiance of our fundamental moral principles. They should not be given awards, honors or platforms which would suggest support for their actions."
On marriage, the U.S. Conference of Catholic Bishops states, "There is a clear, rational basis for the legal protection of marriage as the union of one man and one woman. Here are a few reasons: First, marriage can only be between one man and one woman. Sexual difference, man to woman and woman to man, is essential to marriage. Only a man and a woman are able to enter into the total, body-person union that marriage is. This two-in-one-flesh union is absolutely unique, a good in itself, and serves an irreplaceable function in society.
"Second, children have the right to be known, loved and raised by their own mother and father. Marriage connects mothers and fathers to each other and to their children, and healthy marriages provide the optimal environment for a child's formation and well-being. The heroic act of the adoption of a child is in fact derived from, based upon, and presupposes the essence of the family, founded on the irrevocable marriage bond between one man and one woman.
"Third, marriage and the family serve the common good of all. The family, founded upon marriage as the union of one man and one woman, is the fundamental building block of society. Protecting marriage is protecting the good of all. Marriage should be strengthened, not redefined."
Genesis 1:27-28 says, "God created man in his own image. . . . male and female he created them. And God blessed them, saying: 'Be fruitful and multiply; fill the earth and subdue it.'" 
Genesis 2:21-24 reads, "Then the Lord God cast a deep sleep upon the man, and while he was fast asleep, he took one of his ribs, and closed up its place with flesh. And the Lord God then built up into a woman the rib that he had taken from the man. When he brought her to the man, the man said: "At last, this one is bone of my bones, and flesh of my flesh. ...That is why a man leaves his father and mother and clings to his wife, and the two of them become one body."