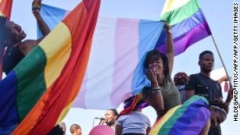 The Republic of Ghana in West Africa is considering legislation that would strongly punish homosexuality, including prison terms of up to 10 years for people who identify as LGBT, penalties for people who defend them, and prohibitions against the publication of pro-homosexual materials. The legislation is likely to become law, according to various media reports.
Ghana's population is about 77% Christian (Protestant and Catholic) and 16% Muslim. The country already has anti-homosexuality laws on the books from when the British ruled there, but those laws reportedly are rarely enforced.
Sam George, a member of Ghana's parliament who proposed the new legislation, said he was motivated in part to counter the increasing "advocacy" and "propaganda" being peddled by Ghana's LGBT activists. 
"We are just bringing our laws up to speed to ensure that so long as our national position has not changed and still homosexuality is an illegality, let's make the laws reflective of that," told Deutsche Welle (DW.com). 
"Our constitution says rights can be curtailed so long as they pose an existential threat to the public safety, public health and public moral," said George. "This act of homosexuality poses a public health challenge and a public moral challenge."
"We need to protect our children who are the target of these LGBTQ+ people, who make them believe that this is a new way of life," George told Agence France Press.
The legislation is entitled, "The Promotion of Proper Human Sexual Rights and Ghanaian Family Values Bill 2021."
According to the Ghanaian NGO Interfaith Diversity Network of West Africa (IDNOWA), many LGBT persons face persecution in Ghana, from the public and family members. 
"More and more LGBT people have had to flee their homes and communities, or are being targeted by attacks," IDNOWA activists told FRANCE 24. "They are under intense pressure. The damage is also psychological." 
Alexandre Marcel, director of the Idaho France Committee rights group, based in Paris, said the persecution is fueled by religious leaders who teach traditional morality. He especially blamed the Ghanian Catholic bishops. 
"They bear responsibility for this hate speech against homosexuals," said Marcel. "How can the pope accept that his bishops support such a law?"
The Catechism of the Catholic Church states, "Basing itself on Sacred Scripture, which presents homosexual acts as acts of grave depravity, tradition has always declared that "homosexual acts are intrinsically disordered." They are contrary to the natural law. They close the sexual act to the gift of life. They do not proceed from a genuine affective and sexual complementarity. Under no circumstances can they be approved."
Many conservative Protestant and charismatic churches, as well as Islam, hold essentially the same view as the Catholic Church on homosexuality: It is contrary to God's design and will.
A 2016-2018 survey by Afrobarometer asked Ghanians about acceptance of homosexuals as neighbors: 92.54% said they would "not tolerate" it and only 7.17% said they would. 
A 2013 survey showed that 96% of Ghanians said society should not accept homosexuality.