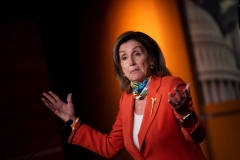 Stephen Moore, FreedomWorks' chairman of the Task Force on Economic Revival, told Fox Business' "Mornings With Maria Bartiromo" on Thursday that under House Speaker Nancy Pelosi's (D-Calif.) $3 trillion HEROES Act stimulus plan, most people would make more money by not working than they would working.

If that happens, unemployment would remain high, and there's no way that President Donald Trump could get reelected, because there wouldn't be an expansion.

Trump told Fox Business White House Correspondent Blake Burman on Wednesday that he supports another round of stimulus payments to Americans, and this time, he supports "larger numbers than the Democrats, but it's got to be done properly."

"We had something where they wanted -- it gave you disincentive to work last time. Money still going to people and helping people, so I was all for that, but we want to create a great incentive, so we are working on that, and I'm sure we will all come together," the president said.

Senate Majority Leader Mitch McConnell (R-Ky.) said Tuesday that he would not support another expansion of unemployment benefits, because it would encourage people to stay at home instead of returning to work.

"This is the key issue in this phase 4, and I was pleased to hear the interview with Blake and the president. He nailed it," Moore said.

"Whatever we do in phase 4, we cannot keep these incentives for people to stay out of the labor force.  Maria, the Congressional Budget Office estimates that over 4 out of 5 Americans would make more money not working under the Pelosi plan than working," he said.

"That would be catastrophic. In fact, I have a piece in the Wall Street journal tomorrow with Casey Mulligan, one of the best labor economists in the country," said Moore, a former Wall Street Journal board member.

"We estimate that if you allowed people to continue to get these super high unemployment benefits, … that would reduce employment this year by 10 million people, so if Trump were to allow that to happen, there's no way he could get reelected, because we couldn't have an expansion," he said.

Moore said that the only policy that pays people to work is the payroll tax reduction, which Trump supports.

"Republicans have to draw the line and say, we are not going to have a policy that pays people more not to work than to work, and by the way, the one policy out there that pays people more to work obviously is the payroll tax reduction, and I really believe -- my sources on Capitol Hill and the White House are saying that's very much on the table," he said.