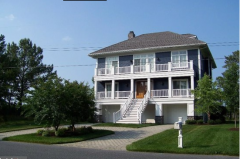 Despite the ongoing crisis at the southern border, the Department of Homeland Security (DHS) allocated $456,548 to a Delaware construction company to build a fence around President Joe Biden's beach house in Rehoboth, Delaware, the New York Post reported.
The Bidens purchased the beach house in 2017 for $2,744,001, according to Long & Foster Real estate. The Biden's main home is in Wilmington, Del., in a neighborhood called Greenville.  
In September, the DHS contracted Turnstone Holdings LLC for the "Purchase and installation of security fencing at 32 Farview [Road], Rehoboth, Delaware," USAspending.gov published. The contract runs from Sept. 21 to Dec. 31.
In the 2021 fiscal year, more than 1.7 million migrants were detained along the Mexico border by U.S. authorities. U.S. Border Patrol arrests reached the highest levels ever recorded, according to unpublished U.S. Customs and Border Protection (CBP) data obtained by The Washington Post.
The surge of illegal immigrants comes after Biden reversed several of former President Donald Trump's border security rules, particularly construction for the border wall.
"Building a massive wall that spans the entire southern border is not a serious policy solution," Biden's Jan. 20, 2021 proclamation read. "It is a waste of money that diverts attention from genuine threats to our homeland security."
The massive increase in illegal migration across the southern border has also led to an exponential rise in illegal drugs, specifically fentanyl and methamphetamines, as well as human trafficking.
CPB seized 10,586 pounds of fentanyl in the 2021 fiscal year, over four times the amount found during the last year of the Trump Administration.
According to the Drug Enforcement Administration, a lethal dose of fentanyl is 2 milligrams. The amount of fentanyl confiscated by the CPB could kill over 4 billion people.
Yet President Biden plans to use the border wall's unspent funds on environmental projects like "biological, cultural, and natural resource surveys," at the southern border, instead of addressing this crisis.
These security measures are not the first actions taken to protect Biden's beach house. The Secret Service and local law enforcement have set up checkpoints at intersections near the president's house, created security zones in the bordering waterways, and placed temporary flight restrictions over the area, wrote The New York Post.