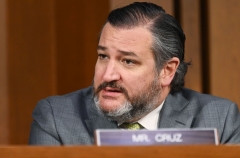 Senator Ted Cruz (R-Texas) tweeted brief, but strongly opinionated, reactions to others' tweets of news reports on Thursday.
"Nuts," was Cruz's (@TedCruz) one-word comment on a tweet by Independent Journalist Andy Ngo (@MrAndyNgo), claiming that Twitter had forced him to censor one of his posts of what he deemed a "death threat" sent to him.
Nuts. https://t.co/XexbxYu7kq

— Ted Cruz (@tedcruz) February 18, 2022
"Shameful," Cruz replied to a Libs of Tik Tok (@libsoftiktok) post noting that a reporter had been contacting doxed contributors via a crowdfunding site (which has frozen the donations) to members of the Freedom Convoy protest in Canada.
NOTE: The reporter, Bryan Schott,(@SchottHappens) has since issued a public apology in a post on his Twitter page.
Shameful. https://t.co/xyU3rOzXBj

— Ted Cruz (@tedcruz) February 18, 2022
"This…is…insane," the senator tweeted, commenting on the double-standard of crowdfunding sites noted in a post by Outkick Founder and Radio Host Clay Travis (@ClayTravis).
This…is…insane. https://t.co/mHCWJSx6qQ

— Ted Cruz (@tedcruz) February 18, 2022
Two minutes later, without comment, Sen. Cruz retweeted a post by The Media Research Center (@TheMRC) of a story by its MRCTV division (@MRCTV), which details the news Cruz had referenced in his previous tweet.
February 18, 2022
And, apparently at a loss for words to describe his reaction to the little-or-no bail policies in liberal-run cities criticized in a tweet by National Journal Columnist Josh Kraushaar (@HotLineJosh), Sen. Cruz replied with nothing more than an emoji, which Twitter describes as "Down pointing backhand index" finger.
This 👇 https://t.co/NtPgH2L6Uv

— Ted Cruz (@tedcruz) February 18, 2022