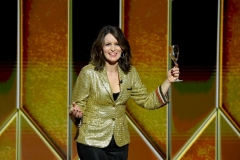 Sunday's Golden Globes award show appears doomed to be the least-watched in history, early numbers released Monday show.
[T]hese early numbers have all the metrics of an all-time NBC low," Deadline.com reported Monday:
"Winners notwithstanding, the obvious shortcomings of the 78th annual Golden Globes on-screen Sunday night were reflected in the ratings for the NBC-broadcast ceremony.

"Coming in with a 1.2 rating in the adults 18-49 demographic and about 5.4 million viewers, the 2021 Globes telecast fell about 60% in both categories from the partially adjusted fast national numbers snared last year by the Ricky Gervais-fronted awards show."
The audience declined from last year's count even though the 2020 Golden Globes program, held in January, was up against an NFL playoff game.
 "The last time the Golden Globes had anywhere near this small an audience was in 2008, when the writers strike forced the cancellation of the usual star-packed ceremony," according to The Hollywood Reporter, which notes that awards show ratings have been steadily declining in recent years:
"The steep declines for the Golden Globes are in keeping with a recent trend among awards shows. In the past six months, the CMA Awards, Academy of Country Music Awards and American Music Awards have all declined by at least 30 percent in total viewers, while the Primetime Emmy Awards in September dropped by 9 percent in viewers and 23 percent in the 18-49 demographic."
The final ratings count is expected to be released on Tuesday.
A 2018 Media Research Center-sponsored poll by McLaughlin & Associates foreshadowed this year's record-low audience. As CNSNews.com reported, the survey revealed that viewers were turning off awards shows because of their political preaching:
74% of likely voters say they watch live sports and entertainment shows, like the AMAs, "to get away from politics and do not want to be bombarded with partisan political messages," and
43% say they're less like to watch such shows because they've gotten too political.