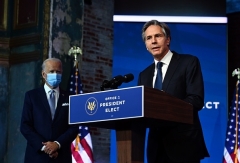 (CNSNews.com) - As Joe Biden announced more additions to his presumptive administration on Tuesday, Senate Democrats said they expect some of Biden's nominees to be confirmed before the inauguration, so they're in place on or immediately after Biden becomes president on January 20.
"I would expect that almost all of President-elect Biden's nominees would be widely acceptable to the Senate," Minority Leader Chuck Schumer told a news conference.
No way, Sen. Josh Hawley (R-Mo.) told Fox News's Laura Ingraham Tuesday night:
"If Joe Biden -- if he is president come January and these are the people that he puts up, he ought to be prepared for a rocky rocky time in the United States Senate if the Republicans are doing their job."
Hawley noted that the election outcome is not yet settled, yet Biden already has nominated war hawk Tony Blinken as his secretary of state:
Can I just start off by saying that the idea that the Democrats are promoting now, that before this election has been certified, before the Electoral College has even met, while there are important appeals and legal cases ongoing, including the one involving Pennsylvania that I hope the U.S. Supreme court would hear -- before any of that is decided and over with, they want to fast-track Vice President Biden's picks for his Cabinet, should he become president.

This is insane. No Republicans should support fast-tracking anything. The only thing that should be fast tracked is the resolution of these important legal challenges to what happened a couple of weeks ago, in the election. So that is number one, the most important thing out of the gate.

Number two, these people, now that Biden is putting out that he wants -- should he actually be sworn in as president -- are unbelievable. Tony Blinken, you mentioned him, here's a guy who hasn't met a war that he doesn't love. He thinks that we should be in Syria even bigger that we have been. He thinks we should have stayed longer; he thinks we should be doing nation-building in Iraq. Afghanistan, we should never leave.

I mean, this is the kind of war-forever, America-last policy that voters have rejected again and again.
Hawley also criticized Blinken as someone who advocates closer ties to China, a country that is and will be a continuing national security threat to the United States:
"He doesn't get that at all," Hawley said:
He's also somebody who has advised Big Tech on how to break into China, how to get closer to China. So this guy is totally wrong. He should not be in charge of anything. Certainly shouldn't be in charge of this country's foreign policy.

And I tell you again, if Joe Biden ends up being sworn in as president, he should prepare for hard vetting of every single nominee. And no Republican ought to be out there saying, oh we're going to fast-track. We're not going to fast track anything. If Joe Biden ends up as president, every nominee should be subjected to rigorous, rigorous vetting and questioning. 
Hawley said Biden's pick of Janet Yellen for Treasury Secretary, announced on Tuesday, also favors closer ties with Beijng: "This is the same person who supported all the ruinous trade deals that President Trump has worked so hard to change and put this country first."
At his Tuesday news conference, Schumer noted that Republicans previously have recommended giving "broad deference" to a president's nominees.
"Well, Republicans ought to give President-elect Biden the same deference, but we are already seeing more pearl-clutching about overblown complaints from Republican senators who conveniently ignored scandal after scandal in the Trump administration," Schumer said.
He urged the Senate to hold hearings on Biden's "impressive slate of nominees" before the inauguration -- "in January, immediately after the Georgia elections" on Jan. 5.
"Our nation is facing unprecedented crises," Schumer said. "We need the next administration to hit the ground running to tackle these multiple challenges. That means ensuring that on January 21, 2020-January 20, 2021, President Joe Biden and Vice President Kamala Harris have much of their team in place.
"I hope--I hope my Republican colleagues will look at Joe Biden's nominees based on their merits and their impressive credentials and not let petty political animus get in the way."