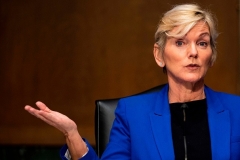 (CNSNews.com) - On the same day the Biden administration announced the release of 50 million barrels of oil from the Strategic Petroleum Reserve -- an attempt to temporarily reduce gasoline prices by a few pennies -- Energy Secretary Jennifer Granholm was asked a pertinent question:
"I'm curious if you know: How many barrels of oil does the U.S. consume per day?" a reporter asked the Energy Secretary, who appeared at a White House briefing on Tuesday.
Granholm's response: "I don't have that number in front of me.  Sorry."
The reporter, however, had looked into it: "So, some suggest it's about 18 million (barrels), which would suggest you're releasing less than three days' worth of supply from the Petroleum Reserve. Why is that enough?"
Granholm stumbled through her answer, as follows:
Well, we — what we are doing, plus what other countries may be doing — which will be less than what we're doing because we have the largest amount of strategic petroleum reserves — we believe will be this bridge.

I mean, the Energy Information Agency has said, for example, that, in December, the am- — this is what they have projected.  Now, again, it's probably more of an art than a science.  Projecting is subject to a lot of different volatility.  But that, in December, the price will be $3.19 a gallon, and then, in January, continue to go down.

So, this is really a question about a short-term strategy that allows us to make this bridge.  So, it's not — we're going to not supply all of the oil for three days, obviously.  We want to — we will be releasing it over a period of time.  And we will have a certain amount that each particular cavern is releasing.  But we're not saying that we're going to be supplying all oil for the country.  We're just going to try to do what we can to temper.
(According to the U.S. Energy Information Agency, "In 2020, the United States consumed an average of about 18.19 million barrels of petroleum per day.")
Granholm emphasized that the 50 million barrels is not going to be released "all at once."
"It will be thoughtfully done over the next bit of time. And it will be dependent on those who bid. So, that takes a little bit of time to do," she said.
The reporter followed up again: "But listening to you just now –- it sounds like you're saying the price is going to hit a certain amount in December and then down into January, it will hit a lower mark--
"Yeah, it will be over a few weeks," Granholm interrupted.
The reporter clarified, "So, we're looking at increased prices continuing through the Christmas season."
"Well, we're hopeful that this will — because it's increasing supply and it's the largest effort ever, we are hopeful that there will be a lid," Granholm said. "Although some of this, honestly, has — there has been movement on oil. The price of per barrel has dropped about 10 percent since this conversation started and was out there.
"So, we're hopeful that prices will be stabilized and start to move down.  We are not saying that there is going to be some dramatic difference.  But we also are recognizing — and everybody needs to, I think, be a partner in letting people know that last year was an anomaly because demand during COVID for gasoline was so low that the prices that the prices were so low.
"And when demand is high, the price goes up.  And demand now has exceeded supply, and we are doing our part to make sure that we can alleviate as much of that pain as possible."
Another reporter asked Granholm, "So, bottom line: How soon will Americans see prices at the pump drop? And how long do you expect that to last?"
"Yeah, I'm –- I — I'm not going to make a prediction about how much and how long," Granholm said, repeating that "it won't happen tomorrow, but it will happen over the next few weeks that people, hopefully, will start to see the difference."
"Before the end of the year?" the reporter asked. "Before the Christmas holiday?"
"I think that people will start to see some ticked down over the next bit," Granholm parried.
"Yeah, again, it's hard to predict what gasoline is going to do because it is a global market," Granholm said.
"But we are doing what we can right now, because this is a bridge to a longer-term issue.  It's a short-term pinch.  We want to make sure we do what we can to sort of even out the market while these prices come down.
"And in the long term, of course, the long-term solution is to build clean. And that's what we're doing."