(CNS News) -- Senator Ted Cruz (R-Tex.) said he does not believe abortion is moral, and he agrees with the Supreme Court's Dobbs ruling proclaiming that there is no constitutional right to an abortion.
At the U.S. Capitol on July 19, CNS News asked the senator, "The Women's Health Protection Act would legalize abortion nationwide. Is it moral to kill unborn children?"
Cruz replied, "I don't believe it is, and I think the Supreme Court was correct in saying that the Constitution leaves the question of abortion to the elected legislatures to be decided through the democratic process."
Since the Dobbs v. Jackson Women's Health Organization ruling on June 24 returning abortion law to the state level, 12 states have either banned abortion or are expected to soon, according to the New York Times.
Other states have legalized abortion through all nine months of pregnancy.
The Women's Health Protection Act (WHPA) would prohibit the government from restricting abortion access before or after fetal viability, when an abortion provider determines the pregnancy threatens the mother's life or health. It essentially allows for abortion on demand until birth and nullifies state restrictions on abortion.
The bill passed the House by a vote of 218-211 last September, but was blocked in the Senate.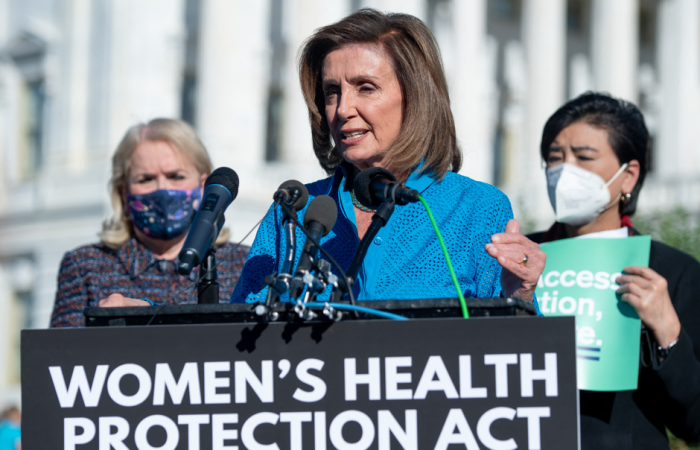 Cruz is one of 48 senators who opposed the WHPA in February, when a cloture vote failed to end debate on it. Sixty votes are needed to end debate and the Senate is split 50-50. Democrats would need to pick up 10 Republican senators for cloture.
Some Democrats want to eliminate the Senate filibuster that requires 60 votes to end debates on bills.
"Democrats must now end the filibuster in the Senate, codify Roe v. Wade, and once again make abortion legal and safe," wrote Sen. Bernie Sanders (D-Vt.) on Twitter, following the Dobbs ruling.
Sen. Marco Rubio (R-Fla.) fired back at Sanders, writing that the Vermont senator, a self-described socialist, wants to "change the rules of the Senate" and legalize "the killing of unborn children right up to the day of delivery."