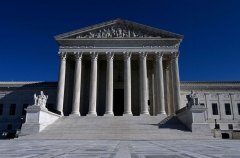 (CNSNews.com) – The White House refused to comment Wednesday on any preparations that may be under way to replace Supreme Court Justice Stephen Breyer after reports said he planned to retire from the bench.

Absent a formal announcement, White House Press Secretary Jen Psaki said she would not comment on any specifics, but she reiterated President Biden's pledge to name a black woman to the high court in the case of any vacancies.

"So let's say hypothetically, a Supreme Court justice was to retire and announce it on his or her own terms, does president Biden plan to honor his pledge to nominate a black woman to the court?" a reporter asked.

"I have commented on this previously. The president has stated and reiterated his commitment to nominating a black woman to the Supreme Court and certainly stands by that. For today, again, I'm just not going to be able to say anything about any specifics until of course Justice Breyer makes any announcement should he decide to make an announcement," Psaki said.

"Jen, what preparations is the White House engaged in broadly in the case of a supreme court vacancy?" NBC News Chief White House Correspondent Peter Alexander asked. 
PSAKI: I'm just not going to detail any of that from here. 

ALEXANDER: Unrelated to this you can't detail what-- doesn't every white house like to get ahead of this in case of a sudden passing, in the case of Ruth Bader Ginsburg? None of that you can share?

PSAKI: I'm not going to detail internal planning from here. No. 

ALEXANDER: Is there any scenario in which the president would select his Vice President Kamala Harris for the Supreme Court? 

PSAKI: Again, I'm not going to speak to any considerations, preparations, lists, and as we've stated earlier and you heard the president say there's a long history of Supreme Court justices determining when they may retire, if they retire and announcing that, and we're going to-- that remains the case today. 
Fox News White House Correspondent Peter Doocy asked, "When you were asked about the vice president possibly being selected as a Supreme Court nominee, you said you are not going to speak to any consideration. Does that mean she is being considered?"
PSAKI: Again, Peter, I'm not going to speak to the reports of a Supreme Court justice retirement that hasn't been announced. 

DOOCY: Just wondering hypothetically, theoretically, would someone who was an attorney general of a large state and who served with many key Senate votes be an attractive candidate to the president for an open Supreme Court seat? 

PSAKI: I see what you did there, Peter, but the president has every intention as he's said before of running for re-election, and for running for re-election with Vice President Harris on the ticket as his partner, but again, I will just reiterate that I have nothing more to offer in terms of specifics or information on the reports this morning. 
When asked earlier to comment on Breyer's retirement, Biden said, "Every justice has the right and opportunity to decide what he or she is going to do and announce it on their own. There have been no announcement from Justice Breyer, let him make whatever statement he is going to make, and I'll be happy to talk about it later."