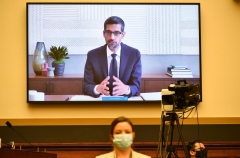 (CNSNews.com) – Rep. Jim Jordan (R-Ohio) on Wednesday asked the CEO of Alphabet Inc., the parent company of Google, whether his company plans to tailor its features to help former Vice President Joe Biden in the 2020 presidential election.

At a House Judiciary Committee hearing examining the dominance of Amazon, Apple, Facebook, and Google - which included testimony by Amazon CEO Jeff Bezos, Apple Inc. CEO Tim Cook, Facebook CEO Mark Zuckerberg, and Alphabet CEO Sundar Pichai – Jordan asked Pichai, "Is Google going to tailor its features to help Joe Biden in the 2020 election?"
PICHAI: Congressman, we approach our work – you know, we support both campaigns today. We think political ads is an important part of free speech in democratic societies, and we engage with campaigns according to law, and we approach our work in a non-partisan way.

JORDAN: It's a yes or no question. Can you assure Americans today you won't tailor your features to help Joe Biden in the upcoming election?

PICHAI: We support work that campaigns do. I just want to make sure I'm--

JORDAN: I understand that. We all do all kinds of online social media, all kinds of that outreach, that communication. This is a simple question. Can you today assure Americans you will not tailor your features in any way to help, specifically help one candidate over another, and what I'm concerned about is you helping Joe Biden over President Trump.

PICHAI: We won't do any work you know to politically tilt anything one way or the other. It's against our core values.

JORDAN: But you did it in 2016. There's an email in 2016 that was widely circulated amongst the executives at your company that got Eliana Murillo circulated amongst the executives at your company that got public where Ms. Eliana Murillo, head of your multicultural marketing talks about the silent donation Google made to the Clinton campaign, and you applauded her work. She points that out in the email. I'm just curious. If you did it in '16, I want to make—in spite of the fact that you did it in '16, President Trump won. I just want to make sure you're not going to do it again in 2020.
The Washington Examiner reported on Sept. 10, 2018 that Murillo sent an email the day after the 2016 election explaining how Google "supported partners like Voto Latino to pay for rides to the polls in key states," which she characterized as a "silent donation."


"We even helped them create ad campaigns to promote the rides (with support from HOLA folks who rallied and volunteered their time to help)," Murillo said. "We supported Voto Latino to help them land an interview with Sen. Meza of Arizona (key state for us) to talk about the election and how to use Google search to find information about how to vote. They were a strong partner, among many in this effort."

"Ultimately, after all was said and done, the Latino community did come out to vote, and completely surprised us," Murillo wrote in the email. "We never anticipated that 29% of Latinos would vote for Trump. No one did. We saw headlines like this about early voter turn out and thought that this was finally the year that the 'sleeping giant' had awoken."

Murillo noted that 71 percent of Latinos voted for Clinton and that "that wasn't enough." She said that despite efforts to remain "objective," that Trump's win was "devastating for our Democratic Latino community."


At Wednesday's House hearing, Pichai denied finding evidence of the activity that Jordan described, but he said that the company told employees that "personal political activity … needs to happen on their own time."
PICHAI: Congressman, I recall our conversation at that time, and I appreciate your concern. We didn't find any evidence of such activity, and I took the opportunity after our conversation to reinforce to the company we realize even an appearance can be improper. So we have clearly communicated to our employees any personal political activity while that's their right needs to happen on their own time and resources and should avoid any use of company—

JORDAN: Of course, everyone's got their First Amendment rights to campaign for who they want. What they can't do is configure your features to help one candidate over the other. So you might not have found any evidence, but here's what she wrote to the email to a number of key executives in your company: 'We pushed to get out the Latino vote with our features in key states.'

Seems to me those last three words are the real qualifier here. That's electioneering. When you're trying to increase the Latino vote in key states, and she'd already communicated she was supporting Clinton to win, so when she talks about increasing the Latino vote, which she assumed is gonna help candidate Clinton, and she's doing that in key states—it's one thing if you're gonna increase the Latino vote around the country. If you're just a good corporate citizen, you're urging people to vote. It's quite another when you're focusing on in key states, and you know what those key states were? Nevada and Florida – the swing states.

So again, I want to make sure this isn't going to happen in 2020. 

PICHAI: I can assure you that we complied with laws in 2016 as a company. Any work we do around elections is nonpartisan. Users do come to us for understanding where polling places are which is the date toward what the voting hours are. We accommodate to providing that information, and I can assure you we'll approach our work in nonpartisan.

JORDAN: Here's the question I think is on so many Americans minds, they saw the list that we read here earlier on in our opening statements – all the things Google has done. Google is siding with the World Health Organization over anyone who disagrees with them, even though the World Health Organization obviously lied to America, obviously shills for China. 
Google's siding with them. YouTube is siding with them. We have the history of all the things Google has done and the history of what happened in 2016 in the election where they obviously, according to one of your multicultural marketing executive, tried to help Clinton, and here we are 97 days before the election, and we want to make sure it's not going to happen again. Can you give us two assurances – one you're not going to try to tailor your features, configure your platform in a way to help Joe Biden, and second, that you're not going to use your search engine to silence conservatives. Can you give us those two assurances today?

PICHAI: Congressman, on our search engine, conservatives have more access to information than ever before.

JORDAN: We appreciate that. That wasn't the question. Can you assure us today you're not going to try to silence conservatives, and can you assure us today you're not going to try to configure your features as Ms. Murillo said you did for Clinton in '16? Can you assure us today you're not going to do the same thing for Joe Biden in 2020?

PICHAI: You have my commitment. It's always been true, and we'll continue to conduct ourselves in a neutral way.