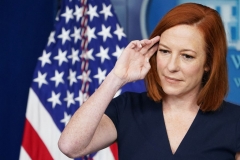 (CNSNews.com) - White House Press Secretary Jen Psaki said Wednesday that the State Department is not preventing charter flights from leaving Afghanistan, but she admitted that the U.S. is not allowing charter flights to land at U.S. military bases that don't have proper documentation about who is on board and whose passengers have not been fully vetted.

CNN's Senior White House Phil Mattingly asked Psaki, "The flights that have been stuck in Afghanistan, I understand the state is leading on this. You guys have been clearly paying attention to American citizens still in the country. I'm trying to square where things actually stand. The secretary of state said a couple of times it was a documentation issue.

"A U.S. senator, Richard Blumenthal, pushed back vociferously on that. Today the secretary of state said the Taliban are not permitting the charter flights to leave, and putting it essentially on them. What's your understanding of the holdup, and if the Taliban is preventing them, what leverage do you have right now?" he asked.

"Well a couple pieces are true here," Psaki said. "One is, we are continuing to press the Taliban - the secretary of state is - to do more, to abide by allowing American citizens, individuals with-- who are legal permanent residents, and individuals with proper documentation to depart the country. It is also true that we don't have a role in preventing flights from taking off. 

"We are not on the ground, so that is not something the U.S. government is doing, but at the same time some of these planes and some of the issues is where are they going to land, so a number of these planes, they may have a handful of American citizens, but they may have several hundred individuals where we don't have manifests for them," she said.

"We don't know what the security protocols are for them. We don't know what their documentation is, and there's a fundamental question, and this is one of the hard choices you face in government,"  the press secretary said.

"Are we going to allow a plane with hundreds of people where we don't know who they are, we don't know what security protocols have been put in place to land on a U.S. military base?" Psaki said. "And there are reasonable questions, justified questions I think as to why we wouldn't do that. And so right now, there are some chartered planes that are taking off. 

"We do have to make evaluations about the safety and security and protocols in place as planes are landing on military bases, and there are some challenges as it relates to documentation where a number of people may not have documentation - some for good reason because they're trying to depart Afghanistan, but that is something we're working through," she said.

"These handful of American citizens we are also in touch with. They are not the majority of these flights, far from it. It is a small number of American citizens who are-- we're talking about on these charter flights," the press secretary said.

Another reporter asked Psaki to clarify, "Are you essentially saying that--- is the administration essentially saying - and I'm picking up from what Secretary Blinken has said today on documentation - is the administration essentially saying that Taliban is the only one who has access and who's able to check passenger documentation against these manifests, and if so, what is stopping the U.S. for example from sending personnel over there to do this job and to allow these passengers to leave on the flights? 

"I understand they're not all Americans, but many of them are Afghan allies," the reporter said.

"None of that is what I said or what the secretary of state said, so let me try again. So there are the flights--- we obviously don't have personnel on the ground. That is correct. We don't. What our objective is, and we have a presence in Qatar, right?" Psaki said.

"As you know, our secretary of state has been on the ground in Qatar, is negotiating and having discussions as we speak with international partners and also members of our State Department are in discussions with the Taliban, because we do want to work through and ensure that we can allow additional flights to land at military bases, but it is also true that we are not going to allow flights to land where we don't know what security protocols have been taken, whether people have been vetted, who are on these planes, and I don't think the vast majority of American citizens want us to do that either," she said.

"So right now, we are working through this process, and we are also in touch with the American citizens who are on these flights or who are in the vicinity, which are a very small number, to work through getting them out of Afghanistan. We are committed to that. We absolutely want to do that. We've already evacuated a handful of people, and we are continuing to work through," the press secretary said.

"Now things that will make it much easier for certain are if Qatar Airlines, we're working with them to see if they can get flights up and operational, more efforts to get individuals evacuated over land. We're working through all of these components, and it's the reason why the secretary of state is on the ground, in the region, discussing and negotiating as we speak," Psaki added.