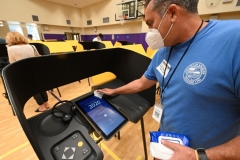 (CNSNews.com) – HR 1, the 'For the People Act,' will automatically register anyone who interacts with the government, which includes millions of illegal immigrants, and it allows felons to vote, Sen. Ted Cruz (R-Texas) said Wednesday.

During an appearance on Fox News's "The Story with Martha McCallum," host Martha MacCallum pointed out that the legislation, which is now in the Senate, would tie the hands of state legislatures, essentially codifying what happened in Pennsylvania during the 2020 elections. 

"In Pennsylvania, the state legislature said, no, you can only vote till Election Day. That's the law. State legislatures are supposed to make that law. How would it be different? How would their voice be stifled, which it was in Pennsylvania in 2020? How would that be part of the law?" she asked.

"This bill is much worse than that. Many people are calling at this time Corrupt Politicians Act, because what it does is It profoundly corrupts our democratic process. It has the federal government take over all elections. It sets aside virtually all of the state election integrity laws. For example, 29 states have voter ID laws. It sets every one of them aside, strikes them down," Cruz said.

"It also automatically registers anyone who interacts with the government, anyone who gets a welfare check, anyone who gets a driver license, anyone who attends a university," he said.

"That includes millions of illegal immigrants and what the Democrats want to do is register millions of illegal immigrants to vote illegally. It also would make millions of criminals and felons eligible to vote – murders, rapists, child molesters, and I think the Democrats believe that with millions of illegal immigrants and criminals voting, that will keep Democrats in power," the senator said.

"It is profoundly misguided, and it is I think it's the biggest threat to the integrity of our elections we're facing. It's a power grab by the Democrats, and it's very dangerous," Cruz said.