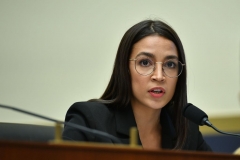 (CNSNews.com) - Rep. Alexandria Ocasio-Cortez (D-N.Y.) blamed the White House on Sunday for the eviction moratorium not being extended before the deadline.

"Well, I think there's a couple of issues here. First of all, you are absolutely correct, in that the House and House leadership had the opportunity to vote to extend the moratorium, and there were many, and there was, frankly, a handful of conservative Democrats in the House that threatened to get on planes, rather than hold this vote, and we have to really just call a spade a spade," Ocasio-Cortez told CNN's "State of the Union."

"We cannot in good faith blame the Republican Party when House Democrats have a majority. Now, there is something to be said for the fact that this court order came down on the White House a month ago, and the White House waited until the day before the House adjourned to release a statement asking Congress to extend the moratorium," the congresswoman said.

"This came after weeks. I sit on the Financial Services Committee, which has jurisdiction over housing. We had the housing secretary there, asking about the administration stance. We asked the Biden administration about their stance, and they were not being really forthright about that advocacy and that request until the day before the House adjourned," she said.

"And so the House was put into a -- I believe a needlessly difficult situation, and it's not just me saying that. Financial Services Chairwoman Maxine Waters has made that very clear as well, and so there's a couple of contributing factors here. We have governors who are also not getting this emergency rental assistance out in time, which is forcing this extension, what we would like, an extension of the moratorium," Ocasio-Cortez said.

"The fact of the matter is, is that the problem is here. The House should reconvene and call this vote and extend the moratorium. There's about 11 million people that are behind on their rent, at risk of eviction. That's one out of every six renters in the United States," the congresswoman added.

CNN's Jake Tapper pointed out that Congress is adjourned for seven weeks, and House Speaker Nancy Pelosi (D-Calif.) made it clear in a letter to Democrats on Saturday that she's not calling the House back. 

The Senate is in town because they have to work on the infrastructure bill, Tapper said, and he noted that Sen. Joe Manchin (D-W.Va.) wants the eviction moratorium extended so that "tens of billions of dollars can get out the door.

"Well, listen, the House adjourned technically for seven weeks, but I want to be very clear that, due to the ongoing negotiations with the bipartisan infrastructure bill, we were given very specific instructions that we are set to adjourn for seven weeks, but every member of the House of Representatives is currently on a 24-hour callback notice, in anticipation of that bipartisan infrastructure bill," Ocasio-Cortez said.

"So, we all have left town with plans to come back within 24 hours if necessary, and I believe that the expiration of the eviction moratorium and having 11 million Americans, one out of every six renters, at risk of being kicked out of their homes, is worth coming back and triggering that 24-hour notice," she said. "We cannot leave town without doing our job."

Tapper asked why tens of billions of dollars that Congress passed to help renters can't get out the door.

"Can you explain to the American people why it is these tens of billions of dollars that Congress has already passed to help renters -- and, also, we shouldn't depict -- and you're not -- but landlords, some of them are small business people. They need the money too, so they can survive. These are not all just Jared Kushner slumlord types, right? And so this money is there. What's the holdup? Why can't it get out the door?" he asked.

"Well, this money was handed over by Congress and the federal government to states and local municipalities to dole out, and what that means, then, is that each individual governor is responsible for establishing these programs," Ocasio-Cortez said.

"I think that, in some states, governors and state administrations might be slow-walking this process to get it out, in other states, the administrative burden of setting it up, but there are states and municipalities that have been getting it right, and we're at a point where, frankly, those state governments need to get it together, but we cannot kick people out of their homes when our end of the bargain has not been fulfilled," she said.

"Out of the $46 billion that has been allocated, only $3 billion has gone out to help renters and small mom-and-pop landlords," the congresswoman said.