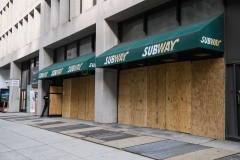 (CNS News) – D.C.'s Democratic Mayor Muriel Bowser sent a flyer to businesses this month telling them how to prepare for "first amendment demonstrations" following the election on Nov. 3. The flyer said that the District "does not recommend businesses board up their buildings," but suggested other security measures such as cameras.
The "First Amendment Demonstration Resource Guide for Businesses" was issued to businesses on Oct. 21, two weeks prior to the election, hinting to fears that protests may erupt on the streets of D.C. again this year, as they did in 2016.
The guide provided information for insurance retribution if businesses were to be damaged, encouraged the use of security cameras, and included polling center information.
Under the section, "How to Protect," the guide specifically recommends against boarding up businesses, which is a method that many D.C. businesses adopted during the summer Black Lives Matter protests.
Under the First Amendment, "the right of the people peaceably to assemble" is protected.
Despite the mayor's letter, businesses in the D.C. area and specifically by Black Lives Matter Plaza and the White House have already begun boarding up their storefronts. Many of these businesses still have up the same boards used during the summer protests.
Protest preparations: around Washington DC, workers are covering windows for fear of violence on #ElectionDay pic.twitter.com/kXNAuLMuM7

— Scott Thuman (@ScottThuman) October 30, 2020
"While at this time there are no known or credible threats to the District," the Mount Vernon Triangle Business Improvement District President Kenyattah Robinson wrote to the businesses she oversees, "business and property owners should plan for the eventuality that something may happen on Election Night and the entire week following, particularly during the hours of 7 pm-Midnight."
In the pamplet's section describing polling centers, businesses are encouraged to report suspicious activity, such as inaccurate polling or voting information, but comes with a disclaimer: "people are not suspicious, it is the behavior of a person that is suspicious."