(CNSNews.com) -- When asked whether he used cannabis and if not, then why not, Sen. Tim Kaine (D-Va.) said, "Never have."
At the Capitol on April 5, CNSNews.com asked Kaine, "The House voted last week to legalize cannabis. Do you use cannabis and if not, why not?"
Kaine replied, "Never have."
CNS News followed up, "Do you think that is harmful at all, cannabis use?"
The senator said, "It can be, yep, it can be."
On Friday, April 1, the U.S. House of Representatives voted and passed H.R. 3617, the Marijuana Reinvestment and Expungement Act (MORE Act). This bill was sponsored by Rep. Jerrold Nadler (D-N.Y.). "Specifically, it removes marijuana from the list of scheduled substances under the Controlled Substances Act and eliminates criminal penalties for an individual who manufactures, distributes, or possesses marijuana," reads a summary of the bill. https://www.congress.gov/bill/117th-congress/house-bill/3617
In addition to decriminalizing marijuana, the legislation would do the following:
-- establishes a trust fund to support various programs and services for individuals and businesses in communities impacted by the war on drugs,
-- imposes an excise tax on cannabis products produced in or imported into the United States and an occupational tax on cannabis production facilities and export warehouses,
-- makes Small Business Administration loans and services available to entities that are cannabis-related legitimate businesses or service providers,
-- prohibits the denial of federal public benefits to a person on the basis of certain cannabis-related conduct or convictions,
-- prohibits the denial of benefits and protections under immigration laws on the basis of a cannabis-related event (e.g., conduct or a conviction).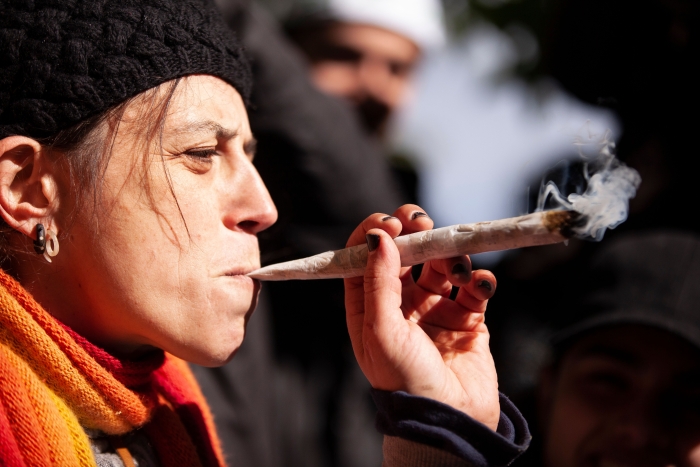 The bill passed 220-204, with five representatives not voting. For the Democrats, 217 voted yes for the decriminalization of marijuana while 2 voted no; 202 Republicans voted no, while 3 said yes.  
The three Republicans who voted for the bill were Rep. Matt Gaetz (R-Fla.), Rep. Brian Mast (R-Fla.), and Rep. Tom McClintock (R-Calif.). The two Democrats who opposed the legislation were Rep. Chris Pappas (D-N.H.) and Rep. Henry Cuellar (D-Tex.).
According to the National Conference of State Legislature , since February 3 of this year the use of marijuana for medical purposes is legal in 37 states, four territories and the District of Columbia.
According to Bloomberg Government, during an event to push for marijuana to be legalized by the federal government, Sen. Chuck Schumer (D-N.Y.) said, "As majority leader, I can set priorities. This is a priority for me."
During House Speaker Nancy Pelosi's (D-Calif.) weekly briefing, last Thursday, March 31, she referred to H.R. 3617 as a "major criminal reform bill that helps end the racial and economic injustice of marijuana criminalization. We're very proud of the work that has gone into it and we would hope that it has support in the Senate."
"This is the decriminalization of it," she later said. "It's the decriminalization of it, and the fact is that many states have already done that. This is consistent with what's happening in many states across the country. It also addresses the injustices of it because of what penalties had been before some of this decriminalization took place."
"I'm all for it," Pelosi added. "There's so many discussions that have gone on over the years about the use of marijuana or cannabis or whatever. The fact is it exists, it's being used, we've got to address how it is treated legally and not in a way that mistreats people on the lower income scale."
The marijuana bill is now in the Senate.
As documented by Alex Berenson in his 2019 book, Tell Your Children: The Truth About Marijuana, Mental Illness, and Violence, "Research on individual users—a better way to trace cause and effect than looking at aggregate state-level data—consistently shows that marijuana use leads to other drug use. For example, a January 2018 paper in the American Journal of Psychiatry showed that people who used cannabis in 2001 were almost three times as likely to use opiates three years later, even after adjusting for other potential risks."
In addition, "a mountain of peer-reviewed research in top medical journals shows that marijuana can cause or worsen severe mental illness, especially psychosis, the medical term for a break from reality. Teenagers who smoke marijuana regularly are about three times as likely to develop schizophrenia, the most devastating psychotic disorder."
"After an exhaustive review, the National Academy of Medicine found in 2017 that 'cannabis use is likely to increase the risk of developing schizophrenia and other psychoses; the higher the use, the greater the risk,'" Berenson reported.  "Also that 'regular cannabis use is likely to increase the risk for developing social anxiety disorder.'"