(CNSNews.com) - Five days after President Biden finished a trip to the Middle East--where he pumped fists (and shook hands) with Israeli Prime Minister Yair Lapid, and pumped fists with Israeli President Isaac Herzog, and Saudi Arabian Crown Prince Mohammed bin Salman--the White House has announced that he has tested positive for COVID-19, according to a statement released by White House Press Secretary Karine Jean-Pierre.
"This morning, President Biden tested positive for COVID-19," said Jean-Pierre in the statement.
"He is fully vaccinated and twice boosted and experiencing very mild symptoms," she said.
"He has begun taking Paxlovid. Consistent with CDC guidelines, he will isolate at the White House and will continue to carry out all of his duties fully during that time," she said.
On July 15, President Biden met with Saudi Crown Prince Mohammed bin Salman in Saudi Arabia. A photo taken by the Royal Court of Saudi Arabia showed Biden and the crown prince pumping fists when they met.
On his trip to the Middle East, the president visited Israel, the West Bank, and Saudi Arabia. He met with the Saudi crown prince on July 15.
A BBC report, which was  published on July 13, described Biden's arrival in Israel. "As handshakes were offered," the BBC reported, "Mr Biden instead fist-pumped Mr. Lapid and Israel's President Isaac Herzog. He later shook hands with Israeli opposition leader Benjamin Netanyahu and Defence Minister Benny Gantz."
A subsequent photo taken on July 14, also showed President Biden shaking hands with Lapid.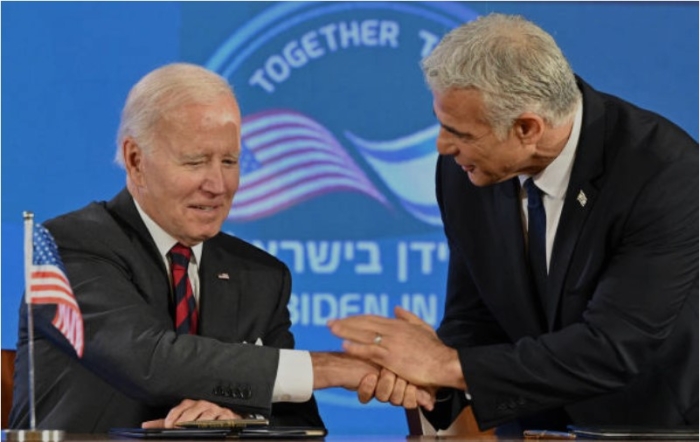 The federal Centers for Disease Control and Prevention (CDC) advises people who were "exposed to COVID-19 and are up to date on COVID-19 vaccinations" to: "Watch for symptoms until 10 days after you last had close contact with someone with COVID-19."
The CDC also advises someone who is up to date on COVID-19  vaccinations and has been exposed  and who develops symptoms to: "Isolate immediately and get tested. Continue to stay home until you know the results. Wear a well-fitting mask around others."
Here is the full text of the White House statement by Jean-Pierre:
"This morning, President Biden tested positive for COVID-19.  He is fully vaccinated and twice boosted and experiencing very mild symptoms.  He has begun taking Paxlovid. Consistent with CDC guidelines, he will isolate at the White House and will continue to carry out all of his duties fully during that time.  He has been in contact with members of the White House staff by phone this morning, and will participate in his planned meetings at the White House this morning via phone and Zoom from the residence. 

"Consistent with White House protocol for positive COVID cases, which goes above and beyond CDC guidance, he will continue to work in isolation until he tests negative.  Once he tests negative, he will return to in-person work.

"Out of an abundance of transparency, the White House will provide a daily update on the President's status as he continues to carry out the full duties of the office while in isolation.

"Per standard protocol for any positive case at the White House, the White House Medical Unit will inform all close contacts of the President during the day today, including any Members of Congress and any members of the press who interacted with the President during yesterday's travel.  The President's last previous test for COVID was Tuesday, when he had a negative test result."