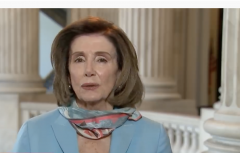 (CNSNews.com) - House Speaker Nancy Pelosi (D-Calif.), appearing on MSNBC's "Morning Joe" on Wednesday, rhetorically asked what Russian President Vladimir Putin has on President Donald Trump.
Pelosi asked the question after host Joe Scarborough asked her for her reaction to the unanimous report from the Senate Permanent Select Committee on Intelligence that concluded that the U.S. Intelligence Community's assessment that the Russians had interfered in the 2016 election was sound.
"But the Republican-led Intel Committee unanimously said that they got it right in this investigation," Scarborough said to Pelosi. "What's your reaction?"
"Well, I'm not surprised," said Pelosi. 
"As a member of the Gang of Eight, I watched this whole investigation proceed and the rest," she said.
"And that leads you to the question: What does Vladimir Putin have on President Trump, personally, politically, financially, in any way that he would choose Putin's word, what Putin said, over the Intelligence Community?" said Pelosi. 
"And that he would give any currency to a charge that it was the Ukraine--people in the Ukraine--that had conducted this, to divert any culpability from the Russians, something is very wrong there," she continued.
"But, this was, again, it gives you hope and faith that with the facts and respect for the intelligence that was gathered cannot be denied," she said. "No matter what the president says, it cannot be denied."
When the Intelligence Committee released a heavily redacted version of its report on Tuesday, Chairman Richard Burr (R.-N.C.) put out a statement supporting the reports basic conclusion.
"In reviewing the ICA [Intelligence Community Assessment], the Senate Intelligence Committee looked at two key questions: first, did the final product meet the initial task given by the President, and second, was the analysis supported by the intelligence presented?" said Burr. "We found the ICA met both criteria. The ICA reflects strong tradecraft, sound analytical reasoning, and proper justification of disagreement in the one analytical line where it occurred.
 "The Committee found no reason to dispute the Intelligence Community's conclusions," said Burr.
"One of the ICA's most important conclusions was that Russia's aggressive interference efforts should be considered 'the new normal,'" said Burr. 
"That warning has been borne out by the events of the last three years, as Russia and its imitators increasingly use information warfare to sow societal chaos and discord," he said. "With the 2020 presidential election approaching, it's more important than ever that we remain vigilant against the threat of interference from hostile foreign actors."
Here is a transcript of the part of MSNBC's "Morning Joe" in which host Joe Scarborough asked Pelosi for her reaction to the Senate Intelligence Committee report:
Joe Scarborough: "It is so remarkable.

Hey, Speaker Pelosi, for a final question let's move beyond the pandemic and talk about some big news that I think got overlooked yesterday. You talked about a unanimous vote, there was another unanimous vote that we learned about yesterday. I am reading from the New York Times: 'On Tuesday, a long awaited Senate review led by members of Mr. Trump's own party effectively undercut his allegations against the intel community'– remember he called them 'scum' earlier this week –  'A three year review by Republican-led Senate Intel Committee unanimously found the intel community assessment pinning blame on Russia and outlining its goals to undermine America's democracy was fundamentally sound and untainted by politics, which the president and his allies have been saying for years now.

"And this is what the Republican-led Intel Committee in the Senate concluded. The committee found no reason to dispute the intelligence community's conclusions. Big news. 

"It undercuts so much of what the president has said about our intel community, calling them, again, 'scum' earlier this week, which is just shocking. It's something that you would expect from Vladimir Putin instead of the president of the United States, calling members of the intel community 'scum.' But the Republican-led Intel Committee unanimously said that they got it right in this investigation. What's your reaction?"

Nancy Pelosi: "Well, I'm not surprised. As a member of the Gang of Eight, I watched this whole investigation proceed and the rest.

"And that leads you to the question: what does Vladimir Putin have on President Trump, personally, politically, financially, in any way that he would choose Putin's word, what Putin said, over the Intelligence Community?  

"And that he would give any currency to a charge that it was the Ukrain--people in the Ukraine that had conducted this, to divert any culpability from the Russians, something is very wrong there. 

"But, this was, again, it gives you hope and faith that with the facts and respect for the intelligence that was gathered cannot be denied. No matter what the president says, it cannot be denied. 

"But it takes us to the next step. They've also told us: 24-7 the Russians are still at work trying to undermine our election. That's why we have to have an important chunk of money in this next bill that will enable us to have--protect the integrity of our elections, as well as enable the American people to vote by mail, especially at this time of a health danger of going to the polls. As well as, again, just shining a bright light on what they are trying to do, to play with people's minds as well as tinker or worse with our critical infrastructure, which is our elections. This is the lifeblood of our democracy: the vote.

"And so here we are trying to protect the lives of the American people, the livelihoods of the American people and also the life of our democracy. And that is what we are going to do in this next bill as well. 

But this is shameful and it really gives lie to what the President has said. We must start to have—insist--on the truth with the president.  This is what I – the conclusion I came to on Easter Sunday. I was saying, 'Other people are being political. They're not speaking out strongly enough.' And then I realized, maybe I'm not either. 

I don't want to be political. We want to do this in a unified way, every bill bipartisan. But, the fact is, if the President refuses to accept evidence, data, truth and the rest, we must insist on the truth because that is the path. Whether it is about testing, testing, testing, which he doesn't want to test because he doesn't want to know the numbers probably or he just doesn't accept the science of it. But, testing in the fullness of it all: contact tracing, isolation and, of course, treatment and prevention as well. We know the path. 

And, now, we have to recognize that there is another path. If we have it – when we have it, God-willing it will be soon, a vaccine or a cure. We are going to have to have a plan. Proper preparation prevents poor performance. We have to have a plan for how it is distributed to the American people, so it is done so in a way that is fair."