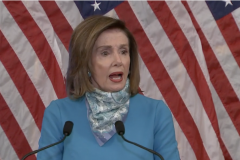 (CNSNews.com) - House Speaker Nancy Pelosi (D.-Calif.) said at her press briefing on Thursday that food stamps "stimulate the economy."
Pelosi made the observation while responding to a question she had been asked about the federal debt.
Nancy Cordes of CBS News asked the speaker: "The national debt hit $25 trillion this week, and I know there's a lot of blame to go around for how much it has increased over the past decade or so. But, regardless, how much does the increase in the debt weigh on you as you try to decide how much money should go to state and local governments or whether you should put more funding into PPP? How do you, how do you weigh those decisions?"
At the beginning of her answer, Pelosi pointed out that she was a "pay-as-you-go person" who did not usually favor deficit spending.
"Well, I'm a pay-as-you-go person, much to the dismay of some in my party," Pelosi said. 
"But I think that, as a matter of course, when we're doing what we're doing, we should find a way to offset additional spending, or get revenue to pay for it, because the debt is an important challenge," she said.
Later in her answer, she explained the food stamps are an economic stimulus.
"But what we're talking about now is about a stimulus to our economy at a time when people are crippled with concern about their physical well-being as well as their economic well-being," Pelosi said.
"So, when we talk about food stamps and we talk about direct payments and we talk about unemployment insurance, they stimulate the economy," said Pelosi.
"Their purpose is to meet the needs of people, but they are a stimulus to the economy," she said.
Here is a transcript of the exchange Pelosi had in her Thursday briefing about the debt: 
Nancy Cordes: "The national debt hit $25 trillion this week, and I know there's a lot of blame to go around for how much it has increased over the past decade or so. But, regardless, how much does the increase in the debt weigh on you as you try to decide how much money should go to state and local governments or whether you should put more funding into PPP? How do you, how do you weigh those decisions?"

Nancy Pelosi: "Well, I'm a pay-as-you-go person, much to the dismay of some in my party.  But I think that, as a matter of course, when we're doing what we're doing, we should find a way to offset additional spending, or get revenue to pay for it, because the debt is an important challenge.

"Years ago, George Miller, when he was a Member of Congress–but this was in '82, when we were at the midterm convention in Philadelphia–he proposed pay-as-you-go. It passed the convention. It became the law when Bill Clinton was president. His administration, on his administration, four or five of his budgets were in balance or in surplus. 

"And then, when President Bush came in, that was erased because they eliminated pay-as-you-go. And, then, when President Obama came in, again, the deficit went from $1.4 trillion to $500 billion in the course of his presidency, reflecting fiscal concern that we all have, because this is a debt for our family. 

"But what we're talking about now is about a stimulus to our economy at a time when people are crippled with concern about their physical well-being as well as their economic well-being. 

"So, when we talk about food stamps and we talk about direct payments and we talk about unemployment insurance, they stimulate the economy. Their purpose is to meet the needs of people, but they are a stimulus to the economy. And it's far better to spend our money that way, when the Republicans, who are supposed to be these budget hawks, had no hesitation whatsoever, in the dark of night and the speed of light, passed a bill that takes us almost $2 trillion in debt in order to give 83 percent of the benefits to the top 1 percent. 

"So, when we look at the needs that our people have--not the top 1 percent, bless them all, we don't begrudge anyone their success or their achievement--but we have to–there is no upside for our economy unless there is consumer confidence, unless people understand that the well-being of working people in our family is what keeps our economy strong. 

"So, yes, I'm concerned about the national debt, but I think it's–it would be penny foolish to say: 'I'm sorry, we can't do SNAP to give you food, because there's a national debt.' We just did $2 trillion for the wealthiest people in our country, but we can't feed one in four children in our country because of the national debt. 

"So, I think that, I think that the secretary, chairman of the Fed, Chairman Powell, has said it again and again, publicly, said it to me: 'Think big. Think big. The interest rates are very, very low. Think big.' And that's what we're doing."