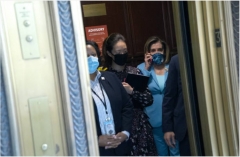 (CNSNews.com) - House Speaker Nancy Pelosi, who is 80 years old, announced today that she plans to receive the COVID-19 vaccine "in the next few days."
"According to government continuity guidelines, Congressional Leadership has been informed by the Office of the Attending Physician that Members of the House and Senate are eligible for a COVID-19 vaccine," said Pelosi. 
"The Attending Physician further stated to Members 'My recommendation to you is absolutely unequivocal: there is no reason why you should defer receiving this vaccine,'" said Pelosi. 
"With confidence in the vaccine and at the direction of the Attending Physician, I plan to receive the vaccine in the next few days," she said.
Pelosi indicated that even after getting vaccinated, she will continue to wear a mask and social distance.
"Even with a vaccine, I will continue to follow CDC guidelines by continuing to wear a mask and take other science-based steps to stop the spread of the virus," she said.
"We must all continue to embrace testing, tracing, treatment, mask wearing and social distancing as the vaccine is being distributed," said Pelosi.
Here is the full text of Pelosi's statement about her anticipated vaccination for COVID-19:
Washington, D.C. – Speaker Nancy Pelosi issued this statement regarding the COVID-19 vaccine:

"This week has been one of great hope, as the FDA has announced an Emergency Use Authorization for a coronavirus vaccine, with a second vaccine expected to be authorized as soon as tomorrow.  All Americans should have full confidence in the vaccines, knowing that they were reviewed and recommended by the FDA's advisory panel's independent experts.

"According to government continuity guidelines, Congressional Leadership has been informed by the Office of the Attending Physician that Members of the House and Senate are eligible for a COVID-19 vaccine.  The Attending Physician further stated to Members 'My recommendation to you is absolutely unequivocal: there is no reason why you should defer receiving this vaccine.'  With confidence in the vaccine and at the direction of the Attending Physician, I plan to receive the vaccine in the next few days.

"Even with a vaccine, I will continue to follow CDC guidelines by continuing to wear a mask and take other science-based steps to stop the spread of the virus.

"We must all continue to embrace testing, tracing, treatment, mask wearing and social distancing as the vaccine is being distributed.  It is imperative that we ensure that the vaccine will be free and delivered in a fair, equitable manner to as many Americans as soon as possible and that we accelerate its manufacture, including by invoking the Defense Production Act."