(CNS News) – When asked whether it was appropriate for President Joe Biden to meet with Saudi Crown Prince Mohammed bin Salman (MBS), Senator Sherrod Brown (D-Ohio) did not answer directly but said Biden, unlike President Trump, will go there "to show the world how bad they are on human rights."
According to U.S. intelligence reports and other investigations, MBS approved a plan to kill Washington Post columnist Jamal Khashoggi, a critic of the Saudi regime. The writer was murdered and dismembered in the Saudi consulate in Istanbul in 2018.
At the U.S. Capitol on July 14, CNS News asked Senator Brown, "Is it appropriate for President Biden to travel to Saudi Arabia and meet with Crown Prince Mohammed Bin Salman?"
Brown replied, "Today, in my Banking and Housing Committee, the Undersecretary of Commerce -- BIS [Bureau of Industry and Security] and Commerce -- spoke about human rights. He was asked not specifically that, but was asked about contrasting the last administration, who had no real interest in human rights, with this one."
"I think Biden will go there, specifically, to show the world how bad they are on human rights," said Brown. "So, I don't think he's going there and endorsing their human rights policy. It's the contrary to that. While the Trump family was doing business with this guy, Biden's going to hold his feet to the fire."
When campaigning in 2020, Biden said, "I guarantee you, we're going to end fossil fuels."
Soon after taking office, Biden took action to reduce domestic production of oil, including revoking the permit for the Keystone XL Pipeline, which was expected to carry 830,000 barrels per day of Alberta oil sands crude to Nebraska, according to CNBC.
Biden claimed that oil is not the purpose of this week's trip. "The commitments from the Saudis don't relate to anything having to do with energy," he said. "It happens to be a larger meeting taking place in Saudi Arabia. That's the reason I'm going. And it has to do with national security for them — for Israelis."
In March 2022, it was reported that the crown princes of Saudi Arabia and the United Arab Emirates refused to take calls from Biden – calls that likely had to do with securing allies against Russia and ensuring continued access to oil. The crown princes rejected the calls due to "unhappiness about Biden's policies in the region," reported the Times of Israel.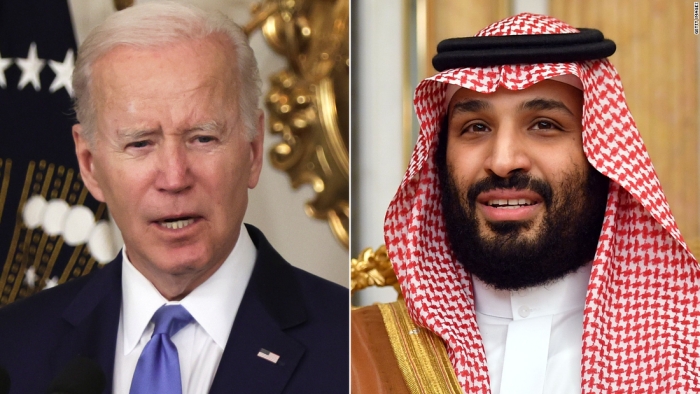 In a July 10 commentary in the Washington Post, Biden wrote, "When I meet with Saudi leaders on Friday, my aim will be to strengthen a strategic partnership going forward that's based on mutual interests and responsibilities, while also holding true to fundamental American values," he said.
The president also wrote, "My views on human rights are clear and long-standing, and fundamental freedoms are always on the agenda when I travel abroad."
A response-commentary was published in The Post on July 11, saying, "A grip-and-grin photograph with MBS [Mohammed bin Salman] signals to autocrats everywhere that you can quite literally get away with murdering a journalist as long as you possess a natural resource the United States wants badly enough."
House Minority Leader Rep. Kevin McCarthy (R-Calif.) tweeted, "Why would President Biden plead for more Saudi Arabian oil when we could be producing more domestic energy right here in America? Our country should be producing more oil by Americans, for Americans."
Why would President Biden plead for more Saudi Arabian oil when we could be producing more domestic energy right here in America?

Our country should be producing more oil by Americans, for Americans.
https://t.co/MPvz6IGzWI

— Kevin McCarthy (@GOPLeader) July 12, 2022