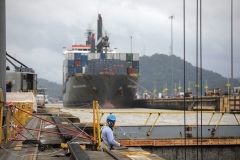 (CNSNews.com) - China's Communist government is "increasingly involved in developing facilities and other infrastructure near strategic maritime chokepoints such as the Panama Canal and the Strait of Magellan (South America), General Laura Richardson, head of the U.S. Southern Command, told the Senate Armed Services Committee on Thursday.
The general, in her written statement, said the People's Republic of China (PRC) has "abused commercial agreements" in Asia, Africa and the Middle East, using host country ports for military purposes; and "our concern is that they are attempting to do the same right here in this region, close to our homeland."
Richardson gave an example: "In Panama, PRC-based companies are engaged in or bidding for several projects related to the Panama Canal, a global strategic chokepoint, including port operations on both ends of the canal, water management, and a logistics park."
Several senators at Thursday's hearing followed up on Richardson's Panama Canal concerns:
"For the record," Sen. Angus King (I-Maine) told Richardson, "I hope you would give us more detail on what you mentioned earlier about the Panama Canal and Chinese activity, I understand, at either end of the Panama Canal, as well as the Straits of Magellan. I think that's a very, very serious matter and would like to have more detail."
Likewise, Sen. Tom Cotton (R-Ark.) said he's very concerned about the Chinese investments along the Panama Canal. "Can you tell us a little bit more about what's going on?" he asked Richardson.
"China and the strategic investments that they make, you know, just like the Panama Canal, when you enter and exit, and on either side you have Chinese state-owned enterprises," Richardson said. "And what I worry about are Chinese state-owned enterprises that have capability and infrastructure there -- is that they can be used for dual use, which means civilian, but also military."
She told the committee that China has 29 port projects in 17 countries in her area of responsibility.
"I mean, these are very methodically thought out, in my opinion, and again, I worry about the access they get in there, under the guise of infrastructure and looking like they're helping economies when they're really not."
Richardson also mentioned Latin America's abundant, "off-the-charts" resources:
"I've got 60 percent of the world's lithium in the lithium triangle in South America -- that's in Argentina, Bolivia, and Chile. You've got 31 percent of the world's fresh water. You have the Amazon. You have the oil reserves in Venezuela. You have the light-sweet crude off the shores of Guyana. There are a lot of resources in this region. And again, I go back to, it's not an investment by our competitors, it's there to extract in some way, shape or form."
Cotton asked Richardson if China is "trying to advance its own interests or holding at risk and threatening ours?"
"I think it's both," Richardson said.
Cotton noted that the United States depends on the canal because of its geography. And Richardson called both the canal and the straits "two very strategic lines of global communication" that "must remain open."
Cotton agreed, then hypothesized about a potential conflict with China:
"Should we ever have a conflict with China, the decisive effort would be somewhere in the Western Pacific, not in the Caribbean Basin or the Eastern Pacific. And it's the very essence of strategy to try to force your adversary to defend what he has no choice but to defend, far removed from the theater of decision. Just one reason I'm so worried about these investments around the canal," Cotton said.