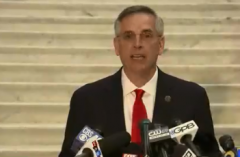 (CNSNews.com) - Georgia Secretary of State Brad Raffensperger says his office is dealing with "over 250 cases" of alleged election fraud, but not enough to change Democrat Joe Biden's victory in the state.
"Well, we've never found systemic fraud, not enough to overturn the election," Raffensperger told ABC's "This Week" with George Stephanopoulos.
"We have over 250 cases right now. We reached out to the governor and asked for additional manpower resources with GBI (Georgia Bureau of Investigation). It gives us additional reach so we can finish up these investigations quickly. But right now, we don't see anything that would overturn the will of the people here in Georgia."
Several times, Raffensperger said he's disappointed in the results of the presidential election:
"The people of Georgia spoke in this election, and obviously, I'm a conservative Republican, disappointed in the results. But I said we'll count every legal vote and work hard to make sure that no illegal votes were counted, and that's what we've been doing."
He noted that even in two "rich, red" Georgia counties, Donald Trump received fewer votes this time than he did in 2016.
Raffensperger said he and his wife have received death threats from disgruntled Trump supporters: "And so, you're seeing just irrational, angry behavior. It's unpatriotic. People shouldn't be doing that.
"You know, we had an election. Like I said, I wish my guy would have won. And it looks like he's not. And it looks like he doesn't have enough votes to prevail."
Stephanopoulos asked Raffensperger, "What's your message to Republicans who refuse to accept the election results?"
"It's one of those situations when you're in an 80 percent Trump county, you just don't understand. But there are other counties that feel exactly the opposite. And at the end of the day we, as Republicans, didn't turn out enough voters.
"Our office, as secretary of state, is really just to look at what those vote totals were, and we report the results. And that's why it gets back to the state party didn't do their job, didn't raise enough money and didn't turn out enough people."
Gov. Brian Kemp and Lt. Gov. Geoff Duncan on Sunday night issued a joint statement saying they will not call a special session of the state legislature as President Trump and some Republican state senators have pressed them to do:
"While we understand four members of the Georgia Senate are requesting the convening of a special session of the General Assembly, doing this in order to select a separate slate of presidential electors is not an option that is allowed under state or federal law.
"State law is clear," they said: "In the 1960s, the General Assembly decided that Georgia's presidential electors will be determined by the winner of the state's popular vote. Any attempt by the legislature to retroactively change that process for the November 3rd election would be unconstitutional and immediately enjoined by the courts, resulting in a long legal dispute and no short-term resolution.
"The judicial system remains the only viable - and quickest - option in disputing the results of the November 3rd election in Georgia."