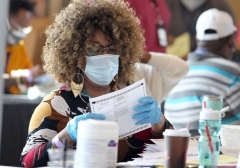 (CNSNews.com) - The ballot recount is just about finished in Georgia, and officials expect to release the results around noon today.
"No, we have not seen any widespread voter fraud," Secretary of State Brad Raffensperger told CNN's "The Lead" with Jake Tapper on Wednesday.
"The president has picked up some votes in a few of the counties that made some clerical errors -- it wasn't the machines. But at the end of the day, he started with 14,000 (vote deficit). He's about 12,000 (deficit) now.
"But we're finishing up, waiting for a few more counties to get back to us, some of the large counties, but I don't believe at the end of the day it will change the total results."
Before the recount, Biden was ahead in Georgia, with 49.5 percent (2,472,098 votes) to Trump's 49.2 percent (2,458,121 votes).
During the recount, election officials did find mistakes, but Raffensperger put that down to "incompetence," not malfeasance.
In two Republican-leaning counties, two batches of votes, around 5,000 total, were found to have never been counted.
"In the case of Floyd County, the county election director had stepped out -- I believe it was due to health issues," Raffensperger said. The county election director "let a junior person that didn't have the skill set and the experience do something. And what happened is, they didn't update the memory card. And so, it just didn't get counted."
Raffensperger said the mistake was discovered when "we counted all the (paper) ballots" and "we had more (paper) ballots than what was reported on election night.
So, we quickly found out what the issue was and was corrected. So, that was really a clerical error. Nothing, you know, untoward, nothing that anyone planned. It was just incompetence.

Fayette County, a similar but different, but it goes back to an election official making a mistake.

But that's why we're going through the audit...We're counting every single ballot. And not just running it through the scanner again, we're doing a hand count because some people were questioning the accuracy of our election machines, this Dominion voting systems.

And what we're seeing in over 50 counties already, there's not one single vote difference. Another 30 counties it was one vote plus or minus, and the other 25 counties, it was plus or minus less than ten vote difference. So, it's very, very close.

And then we actually have done an audit of the machines in six different counties, randomized audit by an outside forensic investigator, Pro V&V, to substantiate that these machines are accurately counting everything.
Raffensperger noted that the Dominion machines "have a verifiable paper ballot trail."
He said election officials "did an audit to make sure we weren't hacked, but when you count the paper ballots and then take it back to what was reported on the machines and they line up, it's pretty clear and conclusive proof that the votes were accurately counted."
(The partisan host Jake Tapper told Raffensperger, "One of the other things we keep hearing from the president, outgoing President Trump, is this thing about Dominion software. Obviously, there's no evidence to it. It's really crazy just -- it's frankly crazy stuff, tin foil hat stuff. But the idea is that because of the software, somebody is able to go in and change the results.")