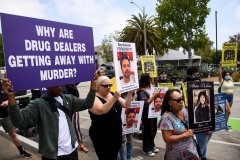 (CNSNews.com) - "We are in the midst of an overdose crisis that has reached a devastating new height," Anne Milgram, the head of the Drug Enforcement Administration, said on Wednesday as the Centers for Disease Control and Prevention predicted that a record 100,306 people in this country have died of drug overdoses in the 12-month period ending April 21, 2021.
Based on death certificates submitted so far, CDC says 97,990 people are known to have died in that 12-month period. Since death certificates are submitted on a lagging basis, CDC expects the number of overdose death eventually to exceed 100,000 for the first time in that April-to-April time period.
If the CDC's preliminary number of 100,306 is correct, that would be a 28.5 percent increase from the roughly 78,000 overdose deaths recorded in the prior year.
Milgram singled out China and Mexico as the main suppliers; and fentanyl and methamphetamine as the main causes of overdose deaths:
Today drug cartels in Mexico are mass-producing fentanyl and methamphetamine largely sourced from chemicals in China, and they're distributing these substances throughout the United States. We are finding these deadly drugs in every state; in cities, suburbs, rural areas and local communities spanning the country.

DEA's fentanyl seizures this year have reached record highs. We've already seized 12,000 pounds of fentanyl. The amount of illegal fentanyl in our country has risen to an unprecedented level. This year alone, DEA has seized enough fentanyl to provide every member of the United States population with a lethal dose and we are still seizing more fentanyl each and every day. Synthetic fentanyl and methamphetamine are driving the overdose crisis in America.

According to the CDC, a majority of the overdose deaths we are talking about today involve synthetic opioids, like fentanyl. Methamphetamine, and other psychostimulants, were involved in a quarter of the overdose deaths. Even more alarming is that these synthetic drugs are being distributed in new forms.

Fentanyl is being mixed with other drugs like cocaine, heroin, marijuana and methamphetamine.  And drug traffickers and networks are flooding our communities with fentanyl and methamphetamine in the form of fake, counterfeit prescription pills. These pills are made and marketed to purposefully deceive Americans into thinking that they are real prescription medications, but they are not. In reality, they are potentially deadly drugs. They are fentanyl and methamphetamine.
Yet the Biden administration has done nothing to stop the flow of illegal and deadly drugs into this country. The southwest border remains wide open, with record numbers of people flooding in illegally. No one knows how many others, including drug dealers, manage to evade detection.
Milgram said DEA's mission "is to keep American communities safe and healthy," and she declared on Wednesday, "Our resolve to combatting this overdose crisis is unwavering. DEA looks forward to our continued collaboration with all of our partners on this critically important issue."
One of those partners is the Biden administration's Homeland Security Department, which insists that border control must be achieved by addressing the "root causes" of illegal immigration in other countries.
"We are addressing irregular migration and working to rebuild a safe, orderly, and humane immigration system," DHS Secretary Alejandro Mayorkas told the Senate Judiciary Committee on Tuesday.
"The challenge of doing so is made more difficult by the ongoing impacts of the COVID-19 pandemic and a system that was decimated by the prior administration. We must invest in addressing root causes, creating legal pathways, and ensuring swift adjudication of asylum claims."
At that same hearing, Sen. Mike Lee (R-Utah) told Mayorkas:
Look, the Department of Homeland Security has clearly failed in its mission to maintain operational control of its borders. The department itself acknowledges how important it is. Over 2 million people have likely crossed over our southern border illegally this year with no end in sight. We've seen no concrete plan for stopping these border surges.

Instead, your department's focused on climate change. These facts seem to indicate, Mr. Secretary, that Americans cannot hope to keep fentanyl out of their communities, that terrorists and gang members can't be kept out of their neighborhoods, and criminal aliens off their streets.

As long as you're in charge of the Department of Homeland Security and running it the way that you've been running it, this cannot continue for the safety of the American people, including people like the woman who was recently raped in open sight in a Philadelphia subway train just recently by someone who shouldn't have been here in the first place, who had a criminal alien background.
Lee told Mayorkas to "fix" the problem or "step down."