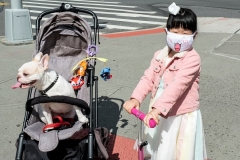 (CNSNews.com) - In the week that ended on July 4, 2,818 people in this country died from the COVID-19 virus, which is an 83.36 percent drop from the peak of 16,941 COVID-involved deaths reported for the week that ended on April 18, according to the provisional COVID-19 death counts published by the National Center for Health Statistics (NCHS), which is part of the Centers for Disease Control and Prevention.
The provisional numbers updated by NCHS on July 20 show that the weekly COVID-involved death count, based on death certificates, has been steadily dropping since the mid-April peak, even as the number of cases is rising nationwide.
The NCHS reports COVID-involved deaths weekly, updating the numbers as more death certificates come in.
Based on the July 20 data, COVID deaths for the week ending July 4 (2,818) dropped only 9.06 percent from the 3,099 deaths posted for the prior week of June 27. It is possible that as more deaths are registered for the July 4 week, the death toll will start to rise again at this point.
"Provisional death counts deliver the most complete and accurate picture of lives lost to COVID-19," says NCHS. However, provisional counts are not final and are subject to change. Counts from previous weeks are continually revised as more records are received and processed.
CDC notes that when a person dies, the cause of death is determined by the physician, medical examiner, or coroner who reports it on the death certificate. States register all death certificates and send them to the CDC's National Center for Health Statistics, where they are used to produce the nation's official death statistics.
"Provisional death counts may not match counts from other sources, such as media reports or numbers from county health departments, which "use different definitions or methods for counting deaths," says NCHS. "Counts by NCHS often track 1-2 weeks or more behind other data."
July 4 is the most recent week to fall within that two-weeks-ago reporting period.
For the week ending July 11, preliminary data shows 1,623 COVID deaths were reported; and 190 were reported for the week ending July 18. As noted above, these numbers will rise considerably as time passes.
-- Death certificates take time to be completed. Waiting for test results can create additional delays.
--States report at different rates. Currently, 63% of all U.S. deaths are reported within 10 days of the date of death, but there is significant variation between states.
--It takes extra time to code COVID-19 deaths. While 80% of deaths are electronically processed and coded by NCHS within minutes, most deaths from COVID-19 must be coded by a person, which takes an average of 7 days.
The first reported death from the virus was recorded in the week ending February 8. Since then, CDC attributes 128,035 deaths in this country to COVID-19, which has its own ICD-10 code. Deaths with confirmed or presumed COVID-19 are listed as ICD–10 code U07.1.