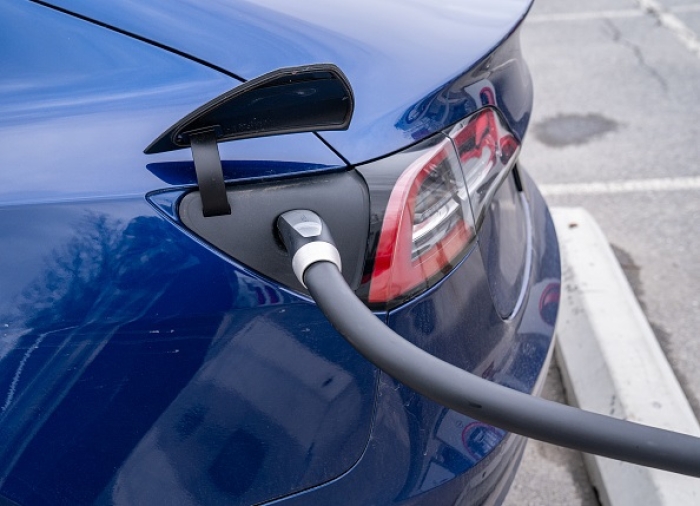 (CNSNews.com) - President Biden's Fiscal Year 2023 budget request for the Department of Transportation includes $1 billion ($5 billion over five years) to build a nationwide network of electric vehicle charging stations so Americans "in every part of the country have access to the lower monthly costs of electric vehicles," Transportation Secretary Pete Buttigieg told a House Appropriations subcommittee on Tuesday.
Buttigieg explained that the transition to electric vehicles -- if more Americans can afford them -- "will mean dramatically fewer emissions and, importantly, savings for those families, those drivers as well, and reduced fuel costs and maintenance costs."
Buttigieg said he's "mindful of the need to make sure that that there is a greater level of public understanding about the benefits of electric vehicles, and that we do our part to try to help make them affordable, which other proposals with Congress could help to do.
"But right now, there are fuel savings to be captured by families who may simply be hesitating because of range anxiety, the fear that you might not have a charger between where you start and where you're headed."
Buttigieg said the states are working on their plans for charging stations right now, ahead of an August deadline to submit them to the administration. "And then, pending approval of those plans we'll be able to get the funding moving promptly after that and start seeing these chargers go into the ground."
The Biden administration wants electric vehicles to account for 50 percent of all new car sales by 2030. That would be a significant increase from the 3.4 percent of EV sales in 2021.
'Out of touch'
Rep. Ashley Hinson (R-Iowa) said the $1 billion investment to build a nationwide network of car chargers is seen by her constituents as "a $1 billion investment in China for critical mineral production."
"And Iowans have been very clear with me they don't want to send their tax dollars to China to help with electric vehicle charging stations that we can't really use right now. When you look at the numbers in Iowa, about a 10th of one percent, a 10th of one percent of the registered vehicles in my district are electric vehicles," Hinson said:
"So, Iowans right now are not trading in their affordable vehicles, their reliable vehicles, their farm trucks for impractical luxury expensive electric vehicles that can't go more than 200 miles without recharging. And a couple things there. First, these EVs were not really built with rural Americans, long distances across counties to get to child care and work.

"I just visited a place where people are driving 40 miles each way to and from child care, two times a day. That completely depletes your -- your ability to go anywhere else. Secondly, Iowans can't afford it. I just talked with a mom in Waterloo who is concerned about her shrinking paycheck covering the rising costs that she's facing, gas and groceries, not buying a new electric vehicle that costs, respectfully, $50- to $60,000 on average.

"And adding charging stations and then suggesting that people should be out there buying a new electric vehicle is truly an out of touch response to what my constituents are facing right now. So I just wanted to ask specifically today, Mr. Secretary, you know, when it comes to these -- these investments in electric vehicles, a $16 million investment in electric vehicles, can you describe where that specifically would go?"
Buttigieg pointed to "misconceptions about electric vehicles," noting that the new electric truck coming onto the market (the Silverado and F-150 Lightning) have a starting price of about $40,000 and they have a driving range of 200-300 miles.
"And it's actually rural drivers who would benefit the most," he said. "I mean, think about some of the drivers you mentioned, right? The more they drive, typically the more of their income is going to gas. And so the more money they're going to save if they can afford an electric vehicle, which allows them to fill up on electrons.
"Of course, that's not free either, but it is cheaper--"
Hinson interrupted: "But electrons are more expensive right now, too, Mr. Secretary. I mean, when you look at -- I have constituents sending me copies of their electric bills that have more than doubled in the last year, too. So when it comes to energy affordability, that is the issue here. No matter what fuel you're using, everything is more expensive right now.
"So that's why I'm -- I'm saying respectfully here that electric vehicles are not the answer right now, when we're facing these -- these energy affordability crises across the board."
Buttigieg insisted, "It is less expensive to fill up on electricity than it is to fill up on gas and diesel. That's only the more true recently, but that's been true for some time. And so part of what we're trying to do here is to make sure that families can get the savings.
"Now, as you know, we also proposed tax credits that would have knocked another 10, $12,000 off of the price of those vehicles. So that, for example, F-150 or Silverado that would start at $40(000) that would get into the high 20s for your constituents."
"Now, some members voted for that, some members voted against it. We believe it would be a nice complement to what we do have the funding from Congress to do, which is to make those chargers available."
'The plug in your wall'
Buttigieg said a lot of Americans don't realize that electric vehicle infrastructure already exists, even in rural areas:
"It's called the plug in your wall," he said:
"In other words, an ordinary wall plug while, of course, not as fast as a level two charger or something like that, is something that that can be used to charge a family vehicle. Look, we're in a race against time. We are seeing effects, some of which have been experienced, you know, certainly in Iowa, of disturbingly frequent and extreme weather events related to climate.

"Many scientists believe we're within just a few years of a point of no return. And we have technology that exists right now that's creating American jobs, that can save American taxpayers money today on their gas or diesel bills if we just act to make sure that it's affordable, which is what those tax credits are about, and act to make sure that we have that kind of charging infrastructure.

"So even with a 300-mile range, we know that that's not going to work for everybody with longer driving patterns. We could help them, and we will, using this funding."
Four days to charge your car?
Republican Rep. Mike Garcia told the committee that he drives an electric car, and he's from California: "And I can tell you, there really is not an ROI (return on investment) right now, even in California with the traffic, with the carpool lane options that we have.
"To charge a car at home through an outlet without the enhancements to your electrical system at home can take up to four days for, call it, a 300-mile range. We shouldn't have to be subsidizing a product that costs anywhere between $40(000) and $60,000 per unit. That's not the federal government's role. The market space should be doing that."
Garcia said the other problem is demand for electricity: "As more people buy electric vehicles, the demand on the electric grid becomes overwhelming," he said.
"And as you know in California, we also have this phenomenon with power shut-off options where the winds get above a certain speed, they turn our power off.
"So as an EV car owner, I sometimes go out to my car thinking I charged it, but that charging was stopped or interrupted because of the -- the infrastructure challenges we have on our electrical grid due to high winds.
"So these -- this isn't a utopian scenario yet. I want what you said to be true, but I think we've got a long ways to go still," Garcia said.