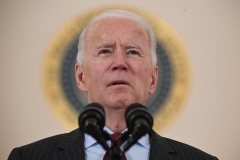 (CNSNews.com) - Since January 2020, the federal Centers for Disease Control and Prevention has kept weekly counts of "COVID-involved" deaths in the United States, based on death certificates that are submitted on a lagging basis to CDC's National Center for Health Statistics.
As of Feb. 22, CDC's official COVID death toll was 467,585. CDC also counts 3,715,704 "deaths from all causes" since January 2020.
So the 467,585 COVID-involved deaths are 12.58 percent of total deaths from all causes. (CDC defines COVID-involved deaths as those with "confirmed or presumed COVID-19, coded to ICD–10 code U07.1.")
Almost every death, from whatever cause, brings pain and sorrow. But COVID deaths have been politicized to the point where they get special mention and attention, as they did Monday night when President Joe Biden and his wife marked a moment of silence for those killed by the virus.
Biden was marking the occasion of at least 500,000 U.S. deaths attributed to COVID. (The CDC count lags other tallies, based on when death certificates are received.)
"Each day, I receive a small card in my pocket I carry with me in my schedule -- it shows the number of Americans who have been affected by or died from COVID-19," Biden said at the White House.
Today, we mark a truly grim heartbreaking milestone--500,071 dead. That's more Americans who've died in one year--this pandemic--than in World War I, World War II and the Vietnam War combined.

That's more lives lost to this virus than any other nation on earth. But as we acknowledge the scale of this mass death in America, remember each person and the life they lived. They're people we knew--they're people we feel like we knew.

Read the obituaries and remembrances--the son who called his mom every night just to check in, the fathers, daughter who lit up his world. The best friend who was always there. The nurse--the nurse and nurses but the nurse who made her patients want to live.
Biden said Americans must "resist becoming numb to the sorrow."
"We have to resist viewing each life as a statistic -- as a statistic or a blurb or on the news. We must do so to honor the dead, but equally important, care for the living -- those who are left behind. For the loved ones left behind, I know all too well. I know what it's like to not be there when it happens."
Biden, without mentioning his son Beau's name, reflected on the moment of Beau's death from cancer:
There's a look in their eye and they slip away. That black hole in your chest -- you feel like you're being sucked into it. The survivor's remorse, the anger--the questions of faith in your soul. For some of you it has been a year, a month, a week, a day, even an hour. And I know that when you stare at that empty chair around the kitchen table it brings it all back, no matter how long it would happen -- as if it just happened that moment you look at that empty chair.

The birthdays, the anniversaries, the holidays without them and the everyday things, the small things, the tiny things that you miss the most--that scent when you open the closet--that park you go by that you used to stroll in--that movie theater where you met. The morning coffee you shared together. The bend in his smile. The perfect pitch to her laugh.
"As a nation, we cannot and we must not let this go on," Biden continued.
He said to heal as individuals and as a nation, "you have to remember" the deceased.
"So today I ask all Americans to remember -- remember those we lost, and those we left behind. But as you remember, as we all remember I also ask us to act -- to remain vigilant -- to say -- stay socially distant, to mask up. Get vaccinated when it's your turn. We must end the politics and misinformation that's divided families, communities in the country. And it's cost too many lives already."