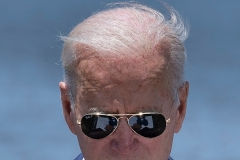 (CNSNews.com) - Joe Biden went to Lake Charles, Louisiana on Thursday to promote his $2.5 trillion infrastructure plan.
Although he talked mostly about roads and bridges and other traditional infrastructure projects, his American Jobs Plan goes well beyond that to include items such as higher wages for home health care workers; making it easier for workers to unionize; and retrofitting schools and homes. The plan also includes key elements of the far-left's green new deal.
On Thursday, Biden made a pitch to veterans, appearing to go off-script because he had trouble making his point.
"Look folks," Biden said after flubbing a few lines -- "the bottom line here is, I'm going on too long."
Biden may have had a teleprompter, but he frequently read from the pages on the podium, head down, in a mumbling monotone.
Here's one part of his speech:
And, by the way, how many of you are veterans or have a brother or sister, mother, father who's a veteran? Well, here in Lake Charles, you've got a new veterans clinic that was built a few years ago, beginning when Barack and I were in office.

But, most VA hospitals, for example, are 50 years old or older. Ask your buddies. Ask your buddies when they--we have more people, more veterans and more active military committing suicide every week than are killed in all our wars. Why? Pick up a phone. We have more people coming back with post-traumatic stress than anything else.

I carry in my pocket my schedule. On the back of my schedule, I have updates, U.S. troop updates, how many people have died in Iraq and Afghanistan, not generally over 6,000 -- 6,000--as of this morning--927, because every single solitary one of those fallen angels left an entire community behind. Wounded, 53,196, not roughly 53,000.

Well, guess what? Ask your people. Ask around in your state and any other state. You've got a husband, a wife calling, saying, "She's having--she--she has post-traumatic stress and she's--I need to get her in there right away." "Well, we can't see you for three weeks. We don't have enough docs, and the buildings are 15 years old--50 years old."

We have a sacred obligation to invest in that infrastructure. Better docs--not better docs; more docs, more psychiatric nurses in order to take care of these things.

Look folks, the bottom line here is, I'm going on too long. The American Jobs Plan puts people to work, upgrading VA hospitals for our veterans and our service members and military families.